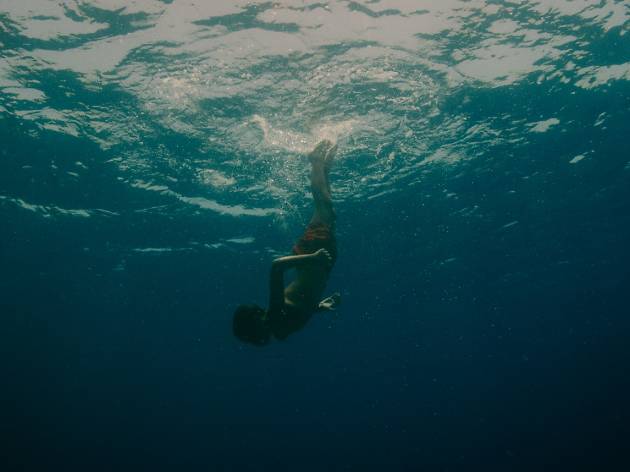 Time Out says
This French import is a mysterious coming-of-age story tinged by the poetic pull of a nightmare.
Lucile Hadzihalilovic's unforgettably unsettling Evolution is set on a rustic island somewhere off the coast of France, perhaps in the stretch of azure sea between the YA dystopia of The Giver and the chilly urban streets of Under the Skin. It's a place where single women with white brows and black pupils raise a generation of young boys without fathers (nowhere to be seen). During the days, the youths go swimming amongst the coral. At night, their mothers feed them a mush of curdled squid ink and inject their skinny arms with a vile sleep-inducing goop they refer to as "medicine." One evening, a curious kid named Nicolas (Max Brebant) manages to resist his dose, slipping out of the spartan house he shares with his mom (Julie-Marie Parmentier). He follows her to the shore, and that's when things start to get weird.
It's been a decade since Hadzihalilovic's only other feature, 2005's Innocence, and it seems as though the writer-director has been hoarding her nightmares ever since. Tense with terror and told with abstractly beautiful imagery across long stretches of wordless quiet, Evolution watches its dark and mysterious world with the same curiosity that keeps Nicolas awake at night, his primal fears taking root in our own. The movie flirts with the outline of a coherent plot, but the answers to its dramatic questions have all sunk to the ocean floor in a plume of beatific marine footage and Cronenbergian body horror. (Especially when Nicolas is confined to a dank "hospital" on the outskirts of town and subjected to a series of unholy experiments that would be ruinous to describe.)
If Evolution has a thematic through-line, it's Hadzihalilovic's propensity for stripping male bodies of their autonomy. The film's female characters—sirens with secret agendas—are born from the classic anxieties of husbands and sons, and the film's most gruesome moments work by forcing the anxieties of childbirth upon a gender that often has the luxury of ignoring them. By the end of this most ominous lullaby, it's clear that the film isn't a puzzle meant to be solved—it's an oblique return to childhood, to a time when there was no clear boundary between imagination and reality, when everything you didn't understand was beautiful and terrifying in equal measure.
Follow David Ehrlich on Twitter: @davidehrlich
Details
Release details
Rated:
N/R
Release date:
Friday November 25 2016
Duration:
81 mins
Cast and crew
Director:
Lucile Hadzihalilovic
Screenwriter:
Lucile Hadzihalilovic, Alanté Kavaïté
Cast:
Max Brebant
Roxanne Duran
Julie-Marie Parmentier