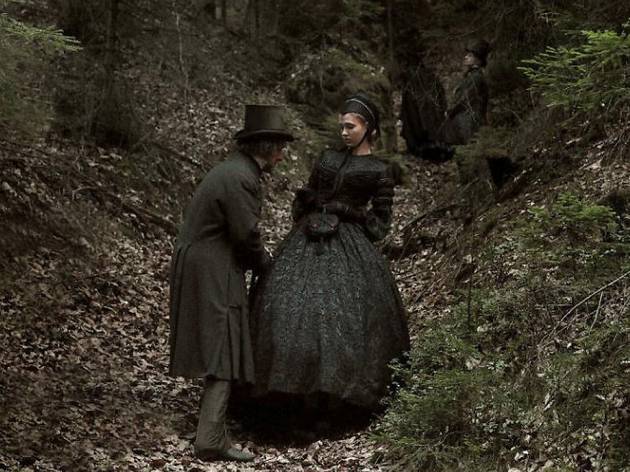 Time Out says
Who is this Heinrich Faust (Johannes Zeiler), the 19th-century doctor at the heart of Alexander Sokurov's triumph of the weird? He's a guy who digs into the entrails of human corpses, which he then strings up like Hannibal Lecter's midnight snack. The atmosphere of this film is so fetid and smelly, you might gag even in a well-ventilated theater.
Corporeality is the subtext of Faust's frustration—he wants to go beyond the flesh, and while Sokurov (Russian Ark), a master of narration, crams his latest with metaphysical ramblings, he mainly grounds us in the muck. Then the big guy shows up, a moneylender named Mauritius (Soviet-era rocker Anton Adasinsky) who, despite his earthly guise, sports a nubby tail. Attraction blooms, a contract is signed in blood, and the movie takes a flying leap into bizarritude.
It might be better to call Faust the midnight movie it is, and not part of Sokurov's celebrated series of corrupting-power dramas, all of which feel more thematically worked out. That's not necessarily a bad thing: Despite the classical context of Goethe and Thomas Mann, the flow feels especially Russian—long conversational walks, distant forest noises, weird explosions of pissiness. Often, Faust plays like a lost cousin to Andrei Tarkovsky's haunted Stalker (1979), catnip for the slow-and-low crowd. Settle in, because this requires your charity, but you'll dream it all back up the next night.
Follow Joshua Rothkopf on Twitter: @joshrothkopf
Details
Release details
Rated:
N/R
Release date:
Friday February 17 2012
Duration:
134 mins
Cast and crew
Director:
Alexander Sokurov
Screenwriter:
Alexander Sokurov
Users say