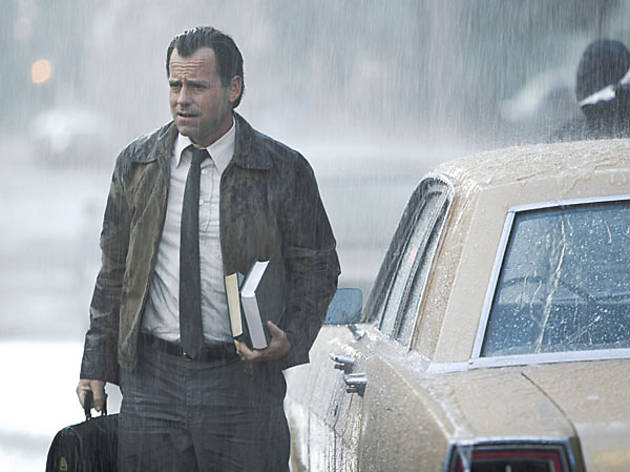 Time Out says
The invention of the intermittent windshield wiper is hardly cinematic material. The real drama in the story of Robert Kearns—the prickly engineering prof who cracked the circuitry problem behind that lovely little pause between wiper cycles—isn't in the inventing; it's in the way Ford tried to screw him out of his creation and how he fought back. Yes, it's a classic David and Goliath story, with Big Business on one side and the little guy on the other.
As Kearns, Greg Kinnear plays convincingly against his usual affable vibe; he's analytical, obsessive and unyielding. Kearns won't accept any of Ford's increasingly generous settlement offers unless the company says publicly that it stole his idea (good luck with that). Even crusading attorney Alan Alda wearies of Kearns's unwillingness to compromise. In the end, Kearns sacrifices his marriage (to the woefully underused Graham) to his quest. Heroic? Sort of.
Best known as a producer, Marc Abraham is good but not great as a director. His pacing is a bit flabby, and at times it feels as if he's struggling to mute the high drama of Philip Railsback's
script. But Kinnear, a generally underappreciated actor, holds the picture together almost by force of will.
Details
Release details
Rated:
PG-13
Release date:
Friday October 3 2008
Duration:
120 mins
Cast and crew
Director:
Marc Abraham
Screenwriter:
Philip Railsback
Cast:
Greg Kinnear
Lauren Graham
Alan Alda
Dermot Mulroney
Jake Abel

Users say