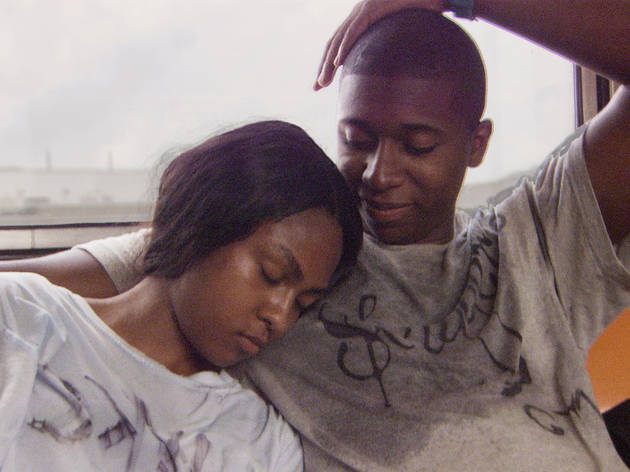 The Rodney Dangerfields of Gotham's graffiti world, Malcolm (Ty Hickson) and Sofia (Tashiana Washington) get no respect. Worst of all, these street artists are seeing a rival crew from Queens spray-paint over their tags—the ultimate bomber flipped-bird. All that's going to change, however, once these two pull off a major coup: They're going to tag the Mets' Apple, that obnoxious giant fruit that pops up every time the team hits a home run at Shea Stadium. ("Yo, I'm not callin' it no fucking Citi Field," one of them declares. "It's Shea!") All they need is to get $500 in the next 24 hours so they can bribe a guard and gain entry. It's not nearly as easy as it sounds.
Part caper-comedy and part affectionate cityscape, Adam Leon's debut feature joins a long line of low-budget, shot-on-the-fly movies that capture a recognizable, residential-level version of NYC: bodegas and basketball courts, crowded house parties and water towers that double as swimming pools, uptown stoop dwellers and slumming downtown college students. Few of those works could claim to possess the warmth or overflowing sense of urban life in all its grit-flecked glory that Leon's modest little New York story does, however. (It's no surprise that Jonathan Demme is a fan; its funky, messy humanistic vibe clearly owes his early films a debt.) These two trash-talkin' Picassos may or may not end up getting their due, but Leon and his two extraordinary actors (especially Washington) have already put us squarely on the side of the beautiful losers regardless. It's a triumph of the underdog in more ways than one. And that final shot would make Ozu beam.
Follow David Fear on Twitter: @davidlfear
Cast and crew
Director:
Adam Leon
Cast:
Tashiana Washington
Ty Hickson

Rating Breakdown
5 star:

1

4 star:

0

3 star:

0

2 star:

0

1 star:

0
Awesome movie. Honestly, I really loved it. The characters so real..street savvy, quick witted, and yet to me, very vulnerable with a sweetness to them. I liked all the different scenes they shot. I really love the actors who portrayed Malcolm and Sophia. And I loved the ending.... Please go out and see!!