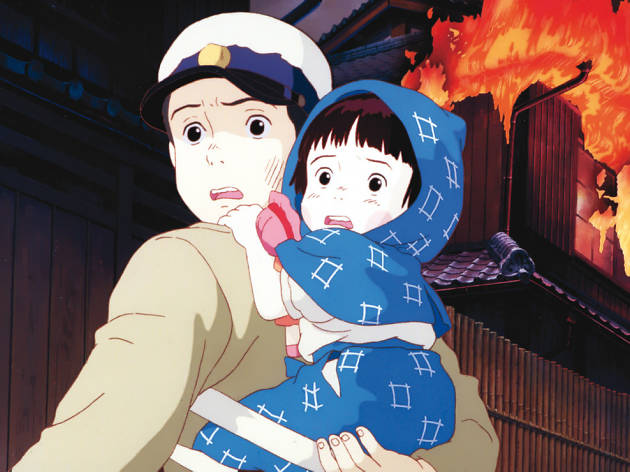 Time Out says
Although it has become routine for graphic novels to address dark, grown-up subjects such as war and genocide, animators are still wary of crossing that unspoken boundary. Perhaps it's simply that very few adult cartoons have ever been a success: 'Animal Farm', 'Heavy Metal' and 'When the Wind Blows' may be fondly remembered, but none set the box office alight. 'Grave of the Fireflies' is not exactly grown-up cinema: its central characters are children, its viewpoint unmistakeably childlike. But the topics it explores – war, exploitation, sickness, starvation and death – and the detail in which it explores them, mean that the film would be at least alienating – if not deeply disturbing – to the average child.
The film opens with the image of a 12-year-old boy, Seita, begging on the streets, his head sinking between his bony knees, and a single line of voiceover: 'September 21, 1945… that was the night I died.' We watch as Seita's spirit leaves his body and is reunited with four-year-old Setsuko, his dead sister, before flashing back to the early days of the war, where the main body of the story unfolds: Seita and Setsuko lose their mother in an American bombing raid, and are forced into the care of a neighbour, and finally to fend for themselves.
This opening is a statement of intent. By alerting us to the fact that both his characters will die, Takahata is warning his audience. This is not a wartime adventure, or a nostalgic childhood reminiscence. This is a requiem for the dead, with all the sombre ceremony that that demands. There are moments of joy in 'Grave of the Fireflies', particularly as the two siblings escape from their selfish, exploitative aunt and learn to fend for themselves in the woods. But every one of these fleeting moments is overshadowed by the constant knowledge that death is coming, and the more we grow to like the characters, the weightier and more unfaceable that knowledge becomes.

'Grave of the Fireflies' is perhaps unique in that the medium of animation in no way softens the events of story. In fact, the opposite is true. Animation allows Takahata to draw performances from his children that no human of equal age could or should be expected to give. His treatment of little Setsuko results in arguably the most realistic four-year-old in cinema, simultaneously curious and wary, playful and serious, exploring her place in the world just as that world is beginning to fall apart. The scenes of her gradual decline would be simply impossible in a live-action context as it would be unwatchable.
'Grave of the Fireflies' is not a film to be taken lightly. It is not even a film to be enjoyed. It is a film which demands – and deserves – total concentration and emotional surrender. The reward is an experience unlike any other: exhausting, tragic and utterly bleak, but also somehow monumental.
Details
Release details
Release date:
Saturday October 8 1994
Duration:
88 mins
Cast and crew
Director:
Isao Takahata
Screenwriter:
Isao Takahata
Rating Breakdown
5 star:

2

4 star:

0

3 star:

0

2 star:

0

1 star:

0
This gritty, heartbreaking tale chronicles the lives of Setsuko and Seita, a brother and sister living during wartime Japan. Having just lost their mother to an air raid, the two must now fend for themselves during a war torn era. This isn't the happy-go-lucky animated films you're used to. This isn't the heroic redemption story you're used to. This is a grim portrayal on the consequences of war, and the effects it has on everyone.
While difficult to watch at times, Grave of the Fireflies combines its fluid, smooth animation, haunting soundtrack, and likable protagonists to hold the audience's attention throughout. Despite the dark setting, the film does a fantastic job of intermingling light-hearted, touching moments amid its vibrant, gorgeously animated setting. Grave of the Fireflies masterfully weaves youth and innocence with fragility and loss, and leaves the audience speechless with awe.