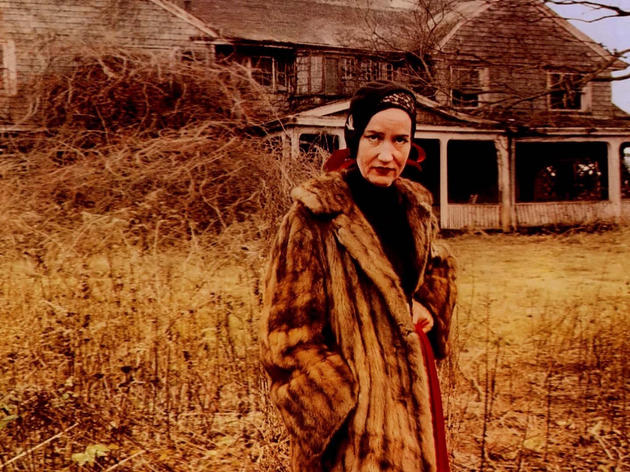 Time Out says
They sing old show tunes, the mother and daughter, to a lazy crowd of cats flopped out on dressers (and to the camera crew). They reminisce about days past, murmur at fraying photos, roll their eyes at the memory of lovers rejected, proposals declined. To one way of seeing it, "Big Edie" Beale and "Little Edie," her adult namesake, luxuriate in the kind of bickersome intimacy that's normal between parents and children.
Grey Gardens, though, isn't a normal film, and these aren't normal people. Famously and immortally, these women are Bouviers, the aunt and first cousin of a former First Lady and, in a deeper sense, the heirs of a ruined Camelot. Their own East Hamptons manse, as the film observes, is a shit-stained dump and still, it's a vast sight better than it was before the Suffolk County Health Department arrived in 1971, a few years prior, and threatened them with eviction. (Jackie herself chipped in and got the cleanup job under way.)
To watch the Maysles' 1975 vérité masterpiece, uninflected by a sentimental soundtrack or editorializing of any kind, is to be invited into a terrible mystery. It's not just the question of where the money went: Phelan Beale, an attorney, left his wife in 1926 at a time when settlements were hardly equitable. The larger question hangs as thick as the mote-strewn air—the matter of Little Edie, so glamorous, so alone. Why is she stuck there with her mother?
Clues come in spurts, and to reveal them would be a crime. Grey Gardens is a documentary that flatters good listeners, those who can hear these polished socialite accents and flouncy turns of phrase and begin to suss out the difference between manners and mannerisms. The house is a purgatory for people who were bred to be taken care of by others.
The material still has a pull to it: Grey Gardens has become a Broadway musical, an HBO drama, a shorthand for squalor. It may also be the beginnings of the kind of cultural train-wreck watching that's so common on reality TV. Those shows are meant to make us sigh: At least we're not that bad. But the beauty of this film is the dignity it imparts to the Beales, trapped in their pasts. They failed to launch, yet paradoxically, they continue to fly so high.
Follow Joshua Rothkopf on Twitter: @joshrothkopf
Details
Release details
Rated:
PG
Release date:
Friday March 6 2015
Duration:
100 mins
Cast and crew
Director:
David Maysles, Albert Maysles, Ellen Hovde, Muffie Meyer