Grudge Match: movie review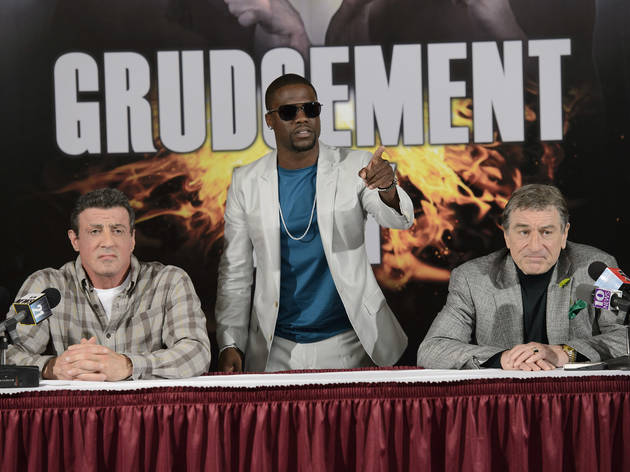 Hot on the heels of Last Vegas, this Geritol- and Bengay-friendly comedy sets up a rematch between Billy "The Kid" McDonnen (Robert De Niro) and Henry "Razor" Sharp (Sylvester Stallone), two former champion fighters still nursing wounds 30 years after their last bout. While the Kid has made a living as a small-business owner, and Razor has ascetically been punching the clock in a Pittsburgh factory, it doesn't take much prompting (or screen time) for them to resume their love-triangle-fueled rivalry, fueled by the former's pursuit of redemption and the latter's need to reconcile with a lost love (Kim Basinger).
Even by low standards, Grudge Match is astonishingly undercooked. The problem isn't a lack of surprise—there's some pleasure in knowing where this is headed—but an indifference to even going through the motions between obligatory training montages and ageist put-downs. What redeems the film (if not Kevin Hart's siren-blasted jive as a Napoleonic promoter) is the commitment our elder heroes bring to exposing the dings in their once-formidable armor. The 70-year-old De Niro exhibits zero vanity—the former Raging Bull now spars like a punching-nun doll—and while the 67-year-old Stallone's melted-wax mug can be hard to look at, he's still every bit the Italian Stallion in a silk robe.
Follow Eric Hynes on Twitter: @eshynes
Release details
| | |
| --- | --- |
| Rated: | PG-13 |
| Release date: | Wednesday December 25 2013 |
| Duration: | 113 mins |
Cast and crew
Director:
Peter Segal
Screenwriter:
Tim Kelleher, Doug Ellin
Cast:
Sylvester Stallone
Robert De Niro
Kevin Hart
Kim Basinger