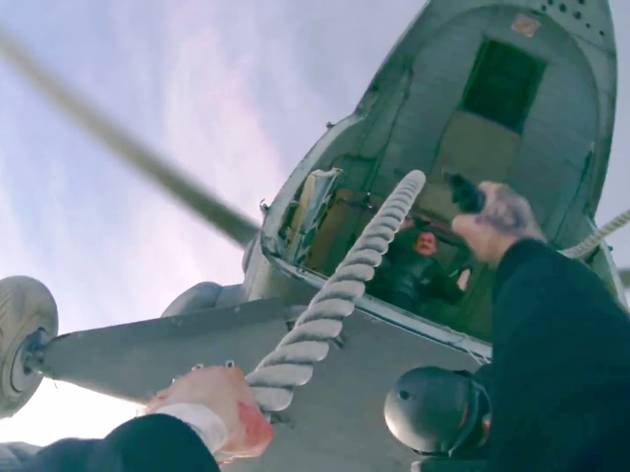 Time Out says
You become the action hero in this adventurous, violent, giddy-making triumph, all shot from the camera's perspective.
A revolution in action cinema that works despite its utter silliness (or perhaps because of it), Russia-born filmmaker Ilya Naishuller's supercharged, wholly first-person coup achieves a near-experimental bliss—you won't know how it was executed, nor will you care. The idea comes from video games and, before them, horror's occasional camera-eye sequence, famously extended by Brian De Palma in movies like Blow Out and his delirious Phantom of the Paradise.
Hardcore Henry turns this gimmick into a feature-length concept not without precedent. Yet because it's a gory nonstop fight movie (unlike, say, 1947's first-person detective noir Lady in the Lake), the cameraman has to be as agile and fearless as a stuntman, flinging himself into hand-to-hand combat, out the doors of exploding vehicles, over fences, down stairwells and onto the edge of a dorky dance number.
The plot fits on a postage stamp: You're Henry, a mute cyborg suffering from a complete memory wipe. Nursing you back to health is your scientist girlfriend you can't remember (Haley Bennett). As you make your brutal way through dozens—hundreds?—of unlucky henchmen toward an evil boss (Danila Kozlovsky), you encounter Jimmy (District 9's Sharlto Copley, the movie's default star), a chatty shape-shifter and helpful presence who sometimes appears as a British gangster, an exuberant brothel regular or a pot-smoking hippie.
Hardcore Henry isn't deep. It's not about complex ideas; it's not going to win any awards for female characters; even the CGI effects that supplant its euphoric takedowns are a little shoddy. But by allowing viewers to step into the shoes of a wall-climbing Jackie Chan, a parkour-sprinting Daniel Craig or a bullet-spraying Ahnold, it does something that live action has never attempted before. The carnage flies—it's possible to miss a lot of it. But if action movies are meant to be stunning, Hardcore Henry can proudly take its place among the giants. Even better, it lets you stand with them.
Follow Joshua Rothkopf on Twitter: @joshrothkopf
Details
Release details
Rated:
R
Release date:
Friday April 8 2016
Duration:
96 mins
Cast and crew
Director:
Ilya Naishuller
Screenwriter:
Ilya Naishuller
Cast:
Sharlto Copley
Haley Bennett
Danila Kozlovsky