Harold & Kumar Escape from Guantanamo Bay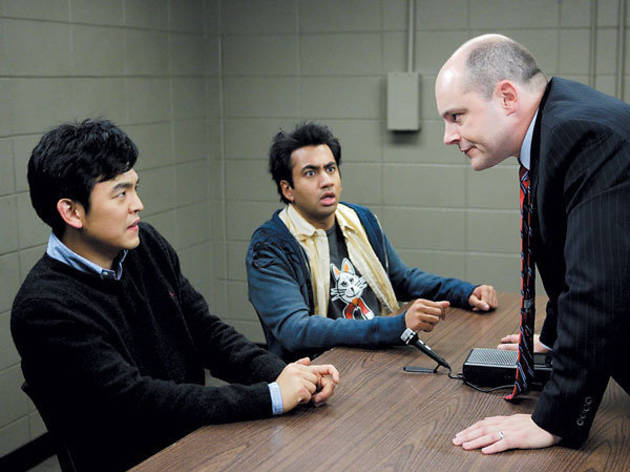 The paranoid side effect to the original's buzz, Guantanamo Bay lacks the single-minded momentum of White Castle's endless night, which it ditches in the name of ramping up the franchise's social agenda: Gitmo, where our duo ends up after Kumar (Penn) attempts to light his "smokeless bong" in an airplane restroom, turns out to be only the first stop on a cross-country mission to debunk all stereotypes. We'll learn that bulky African-Americans with crowbars may just be trying to fix a car, and that (literal) inbreeding hicks can own flat-screens too.
The point scoring can seem labored, at times even crude; the situations involving an overacting Rob Corddry—as the movie's chief Homeland Security buffoon—cut too close to Kafkaesque reality to be funny. But by design, Guantanamo Bay gets by as much on chutzpah as laughs (less so, in both cases, when it makes an unexpectedly sympathetic case for America's pothead in chief). And yes: Amid all the medicating, the writer-directors have included a bottomless party in Miami, the great Neil Patrick Harris wolfing down 'shrooms and a cameo by everyone's favorite anthropomorphic stash, which gets frisky with Kumar and his girlfriend. Only authors of torture memos would fail to find humor in that.
Release details
Rated:
R
Release date:
Friday April 25 2008
Duration:
102 mins
Cast and crew
Director:
Jon Hurwitz, Hayden Schlossberg
Screenwriter:
Jon Hurwitz, Hayden Schlossberg
Cast:
Kal Penn
John Cho
Neil Patrick Harris
Rob Corddry
Jack Conley
Roger Bart
Danneel Harris
Eric Winter
Paula Garcés
Missi Pyle
Beverly D'Angelo
David Krumholtz
Eddie Kaye Thomas
Ed Helms
Christopher Meloni