Heaven's Gate: movie review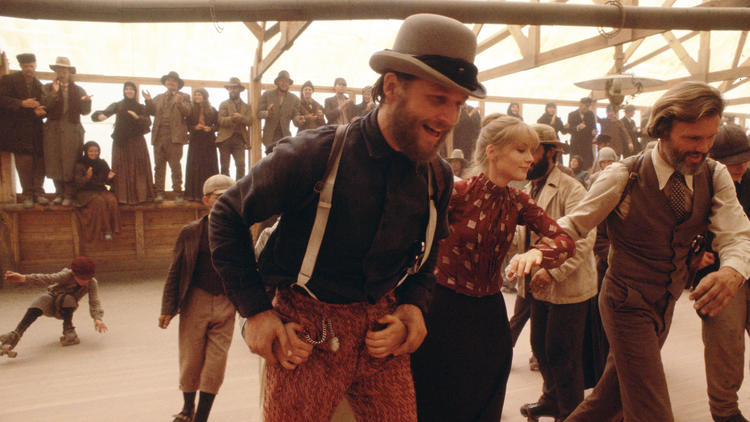 If anything, Michael Cimino's inert disaster of a Western has gotten worse over the years: Once, its damage was mainly limited to the career of its swooningly pretentious director (a man who found a way to get fired off Footloose). But these days, the film's soberly presented revival has the potential to take down a whole new generation of contrarian critics, programmers and unsuspecting audiences. Heaven's Gate may be a fascinating object of late-'70s excess, but it remains the decade's least fulfilled so-called visionary epic: It still turns Wyoming's fierce Johnson County War into an interminable slog, it still hasn't a single coherent performance to speak of, it still suffers from a murky sound mix that makes you desperate for some audible straight talk and it still screams out its arty archness with every hermetic brownscape.
A matter of opinion? Go and trust your own instincts. Like the recent John Carter (a superior film), the movie's reception was dwarfed by mounting money whispers, summarized in Steven Bach's 1985 behind-the-scenes exposé, Final Cut. No piece of entertainment should have to reckon with that. But there's a difference between price and cost, and the price of Cimino's folly (a then-huge $44 million) is immaterial next to the cost of turning the spectacle of middlebrow ineptitude into critical virtue. Is there not a perverse sensibility at play that would champion roller-skating scenes duller than those in Xanadu? How much is Heaven's Gate going to finally cost us?
Follow Joshua Rothkopf on Twitter: @joshrothkopf
Release details
Rated:
R
Release date:
Thursday April 23 1981
Duration:
216 mins
Cast and crew
Director:
Michael Cimino
Screenwriter:
Michael Cimino
Cast:
Kris Kristofferson
Christopher Walken
John Hurt
Isabelle Huppert
Joseph Cotten
Jeff Bridges