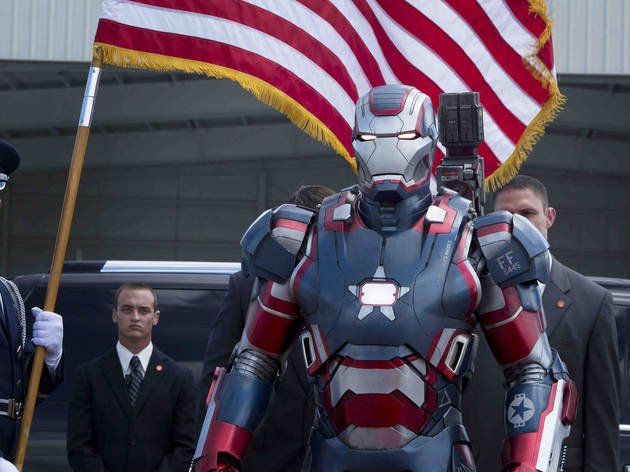 Time Out says
There's little downtime in the life of a Marvel superhero—let's hope these guys are at least getting bonuses or something. If you stuck around after the voluminous credits of last summer's The Avengers, you saw the gang exhaustedly tucking into some shawarma, a modest yogurt-sauced payback for saving New York City. After six interrelated films in five years, fatigue is here.
Redemptively, Robert Downey Jr. brings a small acknowledgement of this overtiredness to Iron Man 3, a sequel that plays strongest when it's remembering to be human. After a brief prologue set in 1999, in which a high-flying Tony Stark seduces a geeky botanist (Rebecca Hall) and accidently births a future villain (Guy Pearce) by making him wait for a nonexistent meeting (touchy!), we see today's Iron Man, racked by postwormhole traumatic stress, endlessly tinkering in his mansion and acting fairly Hughesian. Pepper (Gwyneth Paltrow), his patient girl Friday, sees the charming man inside, but evil has no timetable and random pirate broadcasts from the bin Laden–looking Mandarin (Ben Kingsley) promise global horrors.
That palatial Malibu house is going down in a hail of explosive gunfire—already you can tell—and when it happens, the Iron Man saga undergoes the kind of freshening up it needed after a brief flirtation with a Russian-accented Mickey Rourke. Take Stark to an unlikely place (rural Tennessee), have the magical suit totally fail him, have him attract a curious wiseass of a preteen sidekick (Ty Simpkins, avoiding the worst clichés of the gig)—all of these things occur and, best of all, Downey lets the old edginess fly, even when demanding a tuna sandwich.
How is this different from what fans are expecting? Not by much—or not radically so. But the shift in tone, more impulsive and nervier, can be attributed to director Shane Black, once the king of Hollywood A-list screenwriters with Lethal Weapon. (Downey owes much of his comeback to Black's behind-the-camera debut, 2005's Kiss Kiss Bang Bang.) Given the keys to the franchise and a role in the writing, Black has massively upped the verbal sparring and kept the broad inventiveness of comic-book malleability in mind. "I'm a mechanic," Stark says to the boy in a moment of self-doubt. That's 100% Black, that line, a tidy code of craft, and the jitters pass.
The most wonderful of Black's surprises harkens back to his '80s reputation for character revision and is simply too good to ruin here. Suffice it to say that, while The Dark Knight Rises's metal-mouthed Bane spawned a host of viral videos that put hip-hop lyrics in his head, Kingsley's slippery character will not require such tinkering. An amazing air rescue involving some truly scary skydiving and freefalling is an adrenalizing sequence, outclassing several blockbusters. For a good stretch, you can convince yourself that you're watching a summer movie that's firing on all cylinders, not just the ones involving huge sums of money being wasted.
So why, finally, are we down at the docks—in the dark, no less—for one of those lumbering climaxes involving swinging shipping cranes? The energy bleeds out of the film; it's as if the producers were scared the crowd would riot over not enough digital fakeness. Oh, well: There's always next year's chapter. Rest up, Tony.
Follow Joshua Rothkopf on Twitter: @joshrothkopf
Details
Release details
Rated:
PG-13
Release date:
Friday May 3 2013
Duration:
130 mins
Cast and crew
Director:
Shane Black
Cast:
Robert Downey Jr
Gwyneth Paltrow
Guy Pearce
Rebecca Hall
Ben Kingsley

Users say