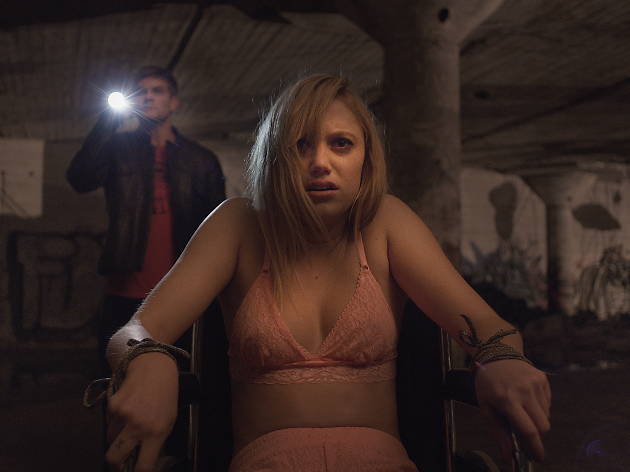 In this age of ironic distance and daily outrage, can cinema still offer an authentically frightening experience? Welcome to the answer. For his second feature after the gentle teen comedy The Myth of the American Sleepover, writer-director David Robert Mitchell has produced the most unexpected and downright unnerving fright flick in years, a film that riffs smartly on the classics while adding something ineffable of its own. Imagine the nightmare of Under the Skin set on Elm Street.
We open in the heart of Michael Myers country, a suburb populated by long-limbed teenage girls and their scruffy, oversexed male admirers. When Jay (Maika Monroe) makes the mistake of sleeping with one of the aforementioned boys, she finds herself followed by a mysterious, slow-moving presence that can assume any human form.
And that's essentially it, plotwise: Like Candyman and The Ring—both clear influences—It Follows possesses the folklorish simplicity of an urban legend, with the added spice of an unsubtle but smartly deployed STD metaphor. Yet it's in style and tone that the film comes alive, its prowling, dreamlike atmosphere, down-to-earth performances and unerring visual confidence echoing early Terrence Malick or the best of Harmony Korine.
It's impossible to adequately describe the haunting intensity of It Follows. This is a film that makes a virtue of silence, that unspools in the shadowy spaces between the kill scenes that punctuate your average stalk-and-slasher. Like its enigmatic monster, it's both passive and relentless, familiar and terrifying, predictable and shocking—and impossible to shake off.
Release details
Rated:
R
Release date:
Friday March 13 2015
Duration:
100 mins
Cast and crew
Director:
David Robert Mitchell
Screenwriter:
David Robert Mitchell
Cast:
Linda Boston
Caitlin Burt
Heather Fairbanks
Maika Monroe

Rating Breakdown
5 star:

0

4 star:

1

3 star:

0

2 star:

0

1 star:

0
You ejaculate it follows, if you seen the movie you would understand that.
The story is about a 19-year-old, should be spending Autumn worrying about school, boys and spending week-ends at the lake. But after a seemingly innocent sexual experience she finds herself unable to shake the feeling that something is stalking her. As strange visions begin to plague her, she turns to her friends to help escape this horror - if she can.
It Follows was a horror movie that I've been waiting for a while now. As I'm speaking right now this movie is rated 96% on Rotten Tomatoes and critics have been calling this "The scariest movie of all time", says some movie magazine. The movie was getting hyped up and I wanted to see what was all the fuss about and after seeing the movie I can say that It Follows isn't the scariest movie of all time, but it's still a great horror movie with a lot to like from it (even the soundtrack).
The director of this movie David Robert Mitchell is unknown directed to me as I haven't seen any of his Previous movies and It Follows is basically the first movie I've seen from him and a great one. David Robert Mitchell directed the movie unsettling and beautiful at the same time adding the art house look and feel to a horror movie which made the tone of the movie creepy and haunting with a throw back of classic horror nostalgic. I will be keeping my eye out for his next movie because David did a excellent job directing and crafting a horror nostalgia, work one David Robert Mitchell.
I remembered seeing Maika Monroe in last year's movie The Guest and now she's in It Follows and she delivered a great and stunning performance. In my opinion I think this is the movie that she really stands out from being good to outstanding. Now this isn't a spoiler to the movie but the scene I'm about to talk about involves Maika Monroe acting and why she was brilliant in this movie and that's when she first encounters the first follower and it's a old creepy looking women that start's walking towards her and the scene itself is very terrifying, Maika Monroe looked like she was scared and confused of what's going on and to be honest that's the face I will pull if so one started following me with that creepy look on their faces. Maika Monroe was pure outstanding in this movie and I can't wait to see more of her talent in the late future.
The soundtrack to this movie is hands down some of the best horror soundtrack of the year, it's right up there with The Guest and other movies like Drive and Under The Skin. It's got a nostalgia of horror to it and a big tribute to John Carpenter's movies. I listened to the soundtrack more times then I excepted, that's how amazing this masterpiece of horror music should be done.
The movie's tone is what made the movie more effective to me as the movie doesn't have loud stupid jump scars or any cliche annoying characters to bring the movie down, no the movie allows on it's setting, it's atmosphere and the performances to make the movie effective or you like to call it frighting. Don't go into this movie expecting a popcorn horror flick with all the cliches you can check off the list in your head, the movie isn't like that has it's different then most horror movies.
Now for the problems: I already talked about how amazing Maika Monroe acting was in the movie but the other actors who played her friends wasn't all that good I mean if you have to compare it to Maika Monroe performance to these they didn't do so great. These a scene in the movie were one of them get's shot in the leg by accident and oh my god they reaction to getting shot was freaking dreadful and such bad acting it took me out of the movie a little bit, but luckily Maika Monroe was on screen most of the time in that scene so she pretty much saved it.
Don't worry I won't spoil the ending for you but let just say that the movie doesn't end on a good note, it just kind of ends just like that. It was like the season finale to The Sopranos it just ends like that and I'm there all like "Was that it?".
Overall It Follows is a great horror movie and I like how different and original it is. Is the movie over hyped? well yeah since critics are false advertising it saying it's the best thing that every happened and people are excepting to be scared out of their minds over this movie and leaving disappointed, well the movie didn't scary me but it left me thinking and it did have it's chilling and creepy moments that got under my skin a lot of times. If you haven't seen the movie yet go check it out but please don't go in thinking it's going to be scariest movie every made, just expect a good horror movie that's clever and unsettling.