Jack the Giant Slayer: movie review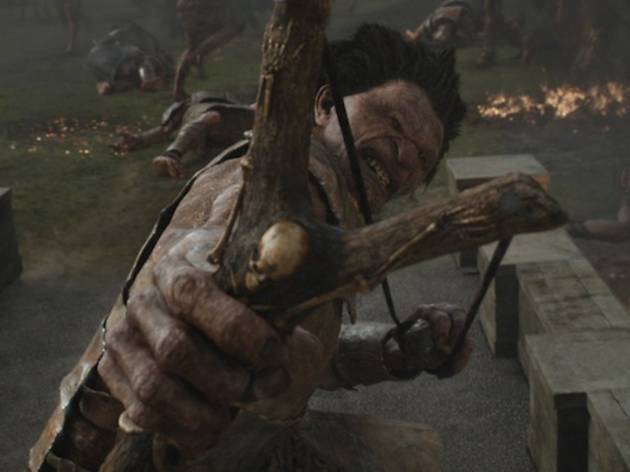 "Don't ever never ever mess around with my greens…especially the beans!" warned a character in Stephen Sondheim's fractured musical fairy tale, Into the Woods. But as Bryan Singer's gargantuan 3-D iteration of a classic bedtime story reminds us, our plucky hero, Jack (Nicholas Hoult), always ends up on the wrong end of the stalk. To be fair, this hardscrabble farm boy is more a victim of circumstance: He's unwittingly entrusted with a handful of magic beans by a monk trying to keep them away from the evil court adviser, Roderick (Stanley Tucci). When one of the seeds gets wet, a towering vine sprouts to the heavens, where a land of warrior giants awaits.
A feminist-lite princess (Eleanor Tomlinson) and an Errol Flynn–esque knight (Ewan McGregor) tag along for the reasonably entertaining ride, and unlike the aggressively mediocre J.J. Abrams, Singer (X-Men) has a distinctive talent for earnest, po-faced spectacle. Jack the Giant Slayer's 3-D photography is utilized for maximum storybook effect, especially whenever the camera assumes the alpine-height POV of the lumbering antagonists. And the cast admirably pushes back against the routine digi-sound-and-fury—particularly character actor Ian McShane as a paternalistic monarch and a motion-captured Bill Nighy as a goliath with two argumentative heads. So many blockbuster movies are impersonal, micromanaged hashes that Jack, with its bare minimum of craft and commitment, comparatively comes off like a diamond in the rough.
Follow Keith Uhlich on Twitter: @keithuhlich
Release details
Rated:
PG-13
Release date:
Friday March 1 2013
Duration:
115 mins
Cast and crew