Jackass Presents: Bad Grandpa: movie review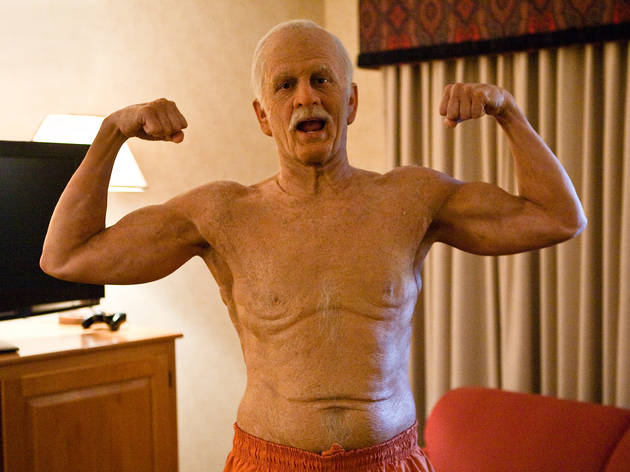 Time Out says
Remember Johnny Knoxville's old-man character, Irving Zisman, from Jackass? The prosthetic geriatric is back, this time on a road trip with his equally ill-socialized grandson, Billy (Jackson Nicoll). That's about the long and the short of the plot, which is merely a perfunctory frame around a messy string of hidden-camera gags—the most audacious of which finds Irving unwittingly bellying up to the bar of a male strip club, where he tries to best the dancers at their own buffed and waxed game.
But whereas the previous Jackass films made Knoxville and his masochistic comrades the bee-stung butts of the joke, here the laughs come at the expense of unwitting subjects, who are usually poor, nonwhite or both. The dynamic plays out again and again: Knoxville, seamlessly made up as an elderly man, says or does something horrible—say, fighting at his wife's funeral until her the casket is knocked off its stand—and the cameras record the shocked and offended faces of unlucky suckers (at least those who could be convinced to sign a release form).

Apart from a handful of physical stunts and the penultimate biker-bar setup, Knoxville never puts himself at risk, and the imbalance of power curdles the imperative to laugh at the rubes. There are a handful of brilliant set pieces, including a scorched-earth attack on child beauty pageants. But this exercise in wink-nudge bad taste simply leaves a bad taste in your mouth.
Follow Sam Adams on Twitter: @SamuelAAdams
Details
Release details
Rated:
R
Release date:
Friday October 25 2013
Duration:
92 mins
Cast and crew
Director:
Jeff Tremaine
Screenwriter:
Spike Jonze, Johnny Knoxville
Cast:
Spike Jonze
Johnny Knoxville
Jackson Nicoll
Georgina Cates