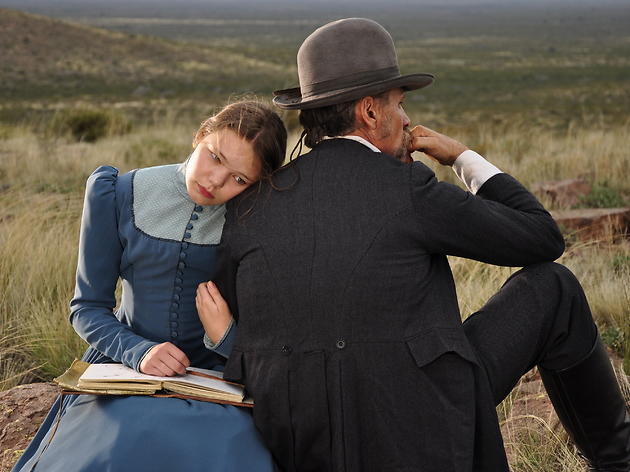 In Spanish, the word jauja (pronounced "how-ha") denotes a land of milk and honey, longed for but never reached. Argentine director Lisandro Alonso couldn't have found a more appropriate name for his magical film about yearning and illusion. On one level, Jauja is literally about people in a quest for territory: Set in no-man's-Patagonia in the late 19th century, it opens on a group of Argentine officers, accompanied by a Danish engineer (Viggo Mortensen) and his adolescent daughter, as they plot to conquer the region for their country. But when the girl goes missing and her father heads off to find her, the story begins to take on more existential overtones.
About a colonialist losing his grip in a threatening, ethereal place, Jauja recalls Werner Herzog's Aguirre, the Wrath of God. But with no Klaus Kinski to grandstand, this is a subtler, more intimate affair. While Mortensen is excellent as the disoriented European, the film's great achievement is to create an uneasy claustrophobia in spite of the sweeping landscape. Nobody trusts anyone. And as the coastal hills of the first act give way to the open plains of the deepening plot, we absorbingly retreat into this father's head.
Or is it somebody else's head? A Lynchian coda upends the entire film, raising several questions and resolving none. Fans of rigorous storytelling may find it to be one whimsical step too far, but others will marvel at this miraculous coup de théâtre. Jauja is a film to make you wonder.
Release details
| | |
| --- | --- |
| Rated: | N/R |
| Release date: | Friday March 20 2015 |
| Duration: | 109 mins |
Cast and crew
Director:
Lisandro Alonso
Screenwriter:
Lisandro Alonso, Fabian Casas
Cast:
Viggo Mortensen
Ghita Nørby
Diego Roman
Viilbjørk Malling Agger