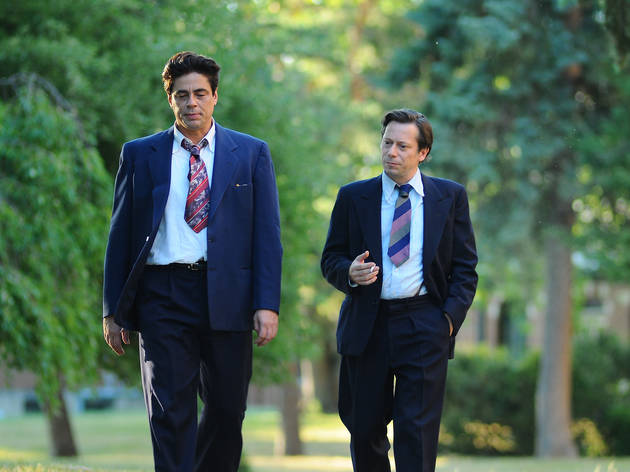 Time Out says
"If they open my brain, it'll kill me," says the guarded title character (Benicio Del Toro) of Arnaud Desplechin's Kansas-set post-WWII period drama—the key line in a movie that uncovers great depths within its feature-length psychotherapy-session framework. At first glance, Desplechin's true-life tale of the talking-cure bond between Del Toro's Jimmy Picard, a Blackfoot Indian and WWII veteran, and Georges Devereux (Mathieu Amalric), a French anthropologist and headshrinker, seems simplistically straightforward: all chat, little texture. What you see is what you get. But therein lies the complexity.
Devereux's Freudian methodology, with its diagnostic insistence on literalizing dreams, finds a complement in Desplechin's aesthetic. Every image is at once banal and abstract, stretched racklike between reality and fantasy. Jimmy's visions of wrestling with a faceless cowboy or killing a fox that morphs into a baby all have the same vaguely verisimilar feel as any of the movie's ostensibly "real" events. The implication is that the character's subconscious is being violently picked apart and ultimately obliterated—a genocide perpetrated on a nerve-jangled native by an overeager foreigner under the sway of American masters. (Larry Pine is the perfect emblem of smarmy concern as Devereux's superior.)
Del Toro and Amalric's concentrated performances—the former resigned and shell-shocked, the latter agitated and servile—have an anguished grandeur. Everything is said, but little is understood. How many times, the movie asks, can we avoid reading between the lines?
Follow Keith Uhlich on Twitter: @keithuhlich
Details
Release details
Cast and crew
Director:
Arnaud Desplechin
Cast:
Benicio Del Toro
Mathieu Amalric
Elya Baskin
Larry Pine