John Wick: Chapter 3—Parabellum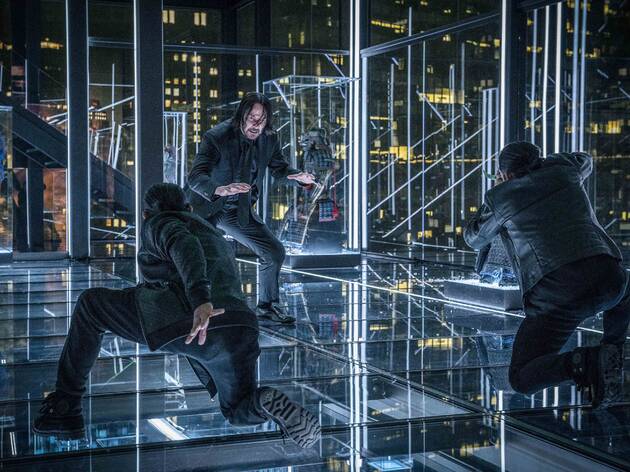 Time Out says
Keanu Reeves's aggrieved assassin delivers another wildly fun kick-shoot-fight-repeat spectacular.
Review by Joshua Rothkopf
"Prepare for war," someone who knows Latin will tell you, if you ask about that subtitle, though it's hardly necessary intel: In these gloriously dumb—but remarkably well-staged—gun-fu flicks, the war is already here, and it lasts for an entire film. Maybe others prefer it when Keanu Reeves talks; for me, he's more effective when he moves. John Wick's somber suit-clad NYC assassin has become his signature role, stripping down Speed and The Matrix into something John Woo sleek. Mob thugs killed his pet pit bull in the first installment. Those guys are long gone. Though this latest John Wick adventure brings on the usual distractions—Ian McShane's fastidious boutique-hotel proprietor, Lawrence Fishburne's booming king of the Bowery underworld, Halle Berry's lady with vicious dogs that leap straight for the crotch—mostly these characters stay out of the way of the main attraction.
Instead, we're here for the rigorously conceived, blessedly coherent action showdowns, the work of director Chad Stahelski (also Reeves's longtime stunt double and choreographer). Stahelski is a fight-scene Fosse and Reeves is his Gwen Verdon: Parabellum takes the hall-of-mirrors high style of the second film and pushes it into overdrive. (Those who live in glass-walled galleries shouldn't throw anything at Wick.) The level of hard-R-rated bloodletting is so delirious, you'll ignore how bad it is for you. A closed Manhattan Bridge is the perfect site for a sword duel on speeding motorcycles. Put Wick on a horse and he's more of a menace than John Wayne on a grouchy day. In one battle, so many knives are flung, a corpse is used as a pincushion. It's the golden age of…something—please don't make us explain it.
Follow Joshua Rothkopf on Twitter: @joshrothkopf
Details
Release details
Rated:
R
Release date:
Friday May 17 2019
Duration:
130 mins
Cast and crew
Director:
Chad Stahelski
Screenwriter:
Derek Kolstad, Shay Hatten, Chris Collins, Marc Abrams
Cast:
Keanu Reeves
Laurence Fishburne
Ian McShane
Halle Berry