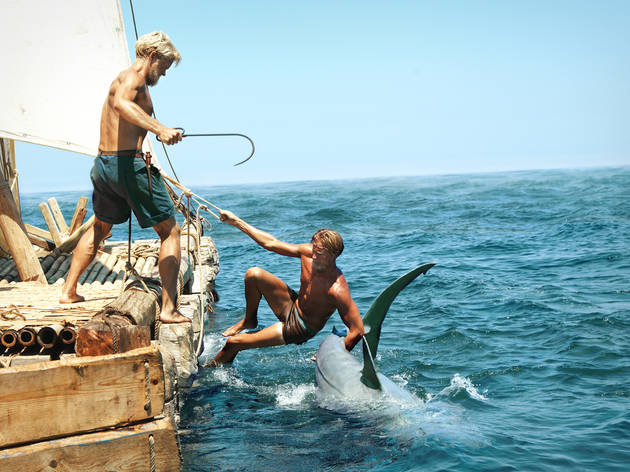 Driven by crazy currents and the blue-eyed ferocity of its lead actor, Pål Sverre Hagen, this Norwegian retelling of Thor Heyerdahl's 1947 Pacific-crossing adventure ought to come with a Jackass-style warning: Don't try this at home, kids, even though you'll want to follow in the movie's inspiring, methodical steps. In short order, the plot throws
down a scientific gauntlet: Could Polynesia, the site of young Thor's early anthropological studies, have been populated not by westerly Asia but by ancient sailors traveling 5,000 miles from coastal Peru? In a lushly re-created Brooklyn, a now-convinced Heyerdahl assembles his team, starting with a tubby, good-natured refrigerator salesman (Anders Baasmo Christiansen), and begins drafting raft designs on scraps of paper.
When the six-man crew casts off in buttoned-down white shirts and sturdy resolve, you might be reminded of a Duran Duran video, but give the movie some time. Directors Joachim Rønning and Espen Sandberg are unusually committed to maritime mechanics, and the excitement grows as steadily as the sailors' beards. The radio shorts out, sharks swirl menacingly (one is even dragged on deck) and waves churn their spirits and stomachs. Kon-Tiki is boys'-own adventure to an extreme degree; the fun and imaginative curiosity race neck and neck. The film's message is sometimes clouded by sentiment, but mainly, we're told to follow our heads and our sextants, a good thing to hear on occasion.
Follow Joshua Rothkopf on Twitter: @joshrothkopf
Release details
| | |
| --- | --- |
| Rated: | PG-13 |
| Duration: | 101 mins |
Cast and crew
Director:
Espen Sandberg, Joachim Rønning
Cast:
Pål Sverre Valheim Hagen
Anders Baasmo Christiansen
Gustaf Skarsgard