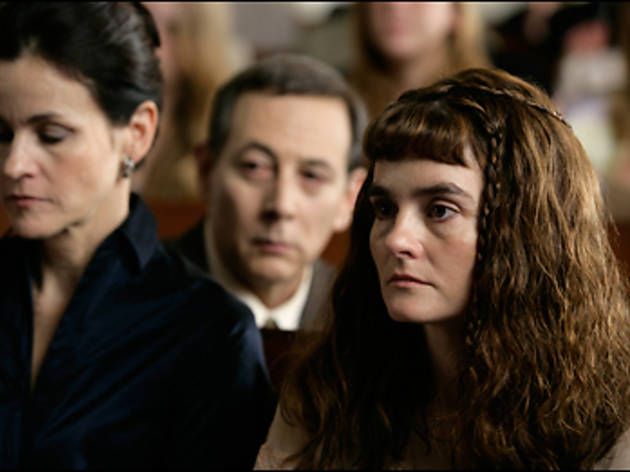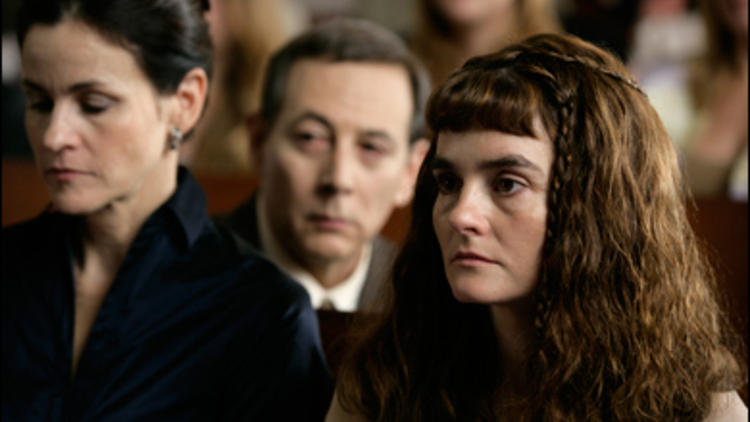 Time Out says
Reviewed at the Venice Film Festival 2009

Many may see the latest from American provocateur Todd Solondz as something of a cop out because, a decade later, he has chosen to revisit the characters from his most popular and emotionally incisive film, 'Happiness'. Call it a sequel if you will, but more crucially, call it a withering and spitefully funny return to form for this one-of-a-kind writer-director.

'Life During Wartime' is a rigorously intelligent and reflective Buñuelian satire, and like Solondz's previous two films, 'Storytelling' and 'Palindromes', it takes a single idea – here,the concept of forgiving and forgetting – and probes it from a number of deliciously absurd angles.

Three sisters, Joy (Shirley Henderson), Trish (Allison Janney) and Helen (Ally Sheedy), all strive for bourgeois normalcy while their human relationship skills and ability to adopt rational political ideals are lacking. 'Happiness' left us in an abyss of hope, as prim housewife Trish discovered that her husband was a paedophile, writer Helen was suffering from depression having foolishly accepted the advances of a perverted stalker, and Joy, well, she was starting to get wise to the fact that people were taking cruel advantage of her genial demeanour. The film joins the characters a few years down the line, and the tragic news is, not much has changed. It asks, can we ever really put our past failures behind us? It also asks, can we ever put the past failures of others behind us?

As in 'Happiness', Solondz takes straight-aim at middle-class hypocrisy, inadequate parenting, therapist doubletalk and a sickeningly quaint service-driven society that does its best to assure us that everything is okay. His weapon of choice is the one-on-one conversation and he draws much of the comedy and pathos from how two people interact in private discourse. Of course, Solondz is deviously mining for the comedy of discomfort, and in such scenes where Trish's curious 12-year-old son asks her what anal rape is (having just discovered the truth about his father), he strikes pure gold. The writing is mostly exceptional.

Formally, this is Solondz's most conventional film since 'Happiness', and even though the dramatic arc is extremely slight, the thematic undertow is always tight and compelling. The director uses flashbacks, dreams and visions to let us know what's going on inside the characters' heads, but those are his biggest visual extravagances. His greatest coup – and perhaps one that other viewers may disagree with – is how he is able to pile flaws and quirks on to his characters without ever reducing them to mere pawns in his wicked game. He likes them, and he wants us to like them too.

None of the actors from 'Happiness' return for this film, which at one point was mooted to have Paris Hilton among its cast (she's not). But that doesn't prevent it from working just as smoothly. Janney and Henderson are particularly strong, as is Michael K Williams (better known as Omar from 'The Wire') showing that he's no one trick pony as Joy's perverted, criminally-inclined husband, Allan. Ciarán Hinds, too, manages to step in to the boots of the empathetic paedophile that actor Dylan Baker made so memorable in the earlier film.

In the end, though, this is Solondz's film, and with it, he has proven once again what a gifted and astute filmmaker he really is.

Details
Release details
Cast and crew
Director:
Todd Solondz
Screenwriter:
Todd Solondz
Cast:
Alison Chitty
Ally Sheedy
Paul Reubens
Ciarán Hinds
Charlotte Rampling

Users say