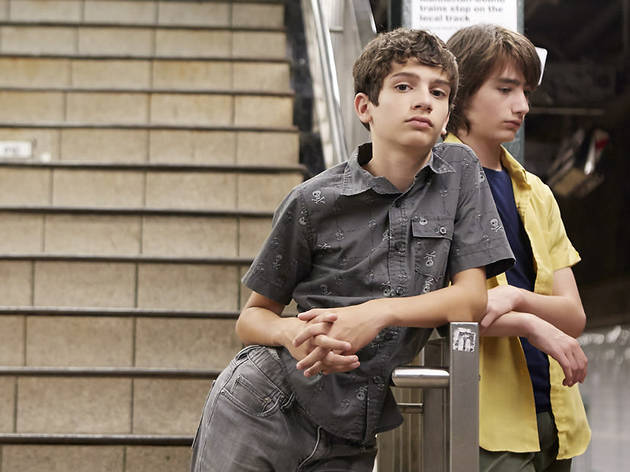 Time Out says
Parents fight over possession of a Brooklyn building while their children grow up, in Ira Sachs's keenly observed New York story.
To his credit, humane New York filmmaker Ira Sachs couldn't write a villain to save his life—even though his latest tale concerns nothing less than the eviction of a sweet dressmaker onto the street. The encroaching Jardines are decent people: Brian (Greg Kinnear) is an actor of modest renown, while his wife, Kathy (Jennifer Ehle), a therapist, pays the bills. After the death of his dad, Brian inherits his childhood home, a handsome Brooklyn building and storefront. But with money tight, the couple must confront the single Chilean mother (Paulina García) whose downstairs shop has been a neighborhood fixture for decades—with the insanely low rent to prove it.
Little Men is too sophisticated to indict the brutal wave of gentrification currently stripping away the borough's old charms. Rather, these are people in a tough spot, and Sachs develops their conflicting views—even the tricky claim of paternal devotion—in a calm, adult manner. But as the title would suggest, it's really a movie about the kids: Jake (Theo Taplitz, one of those Baumbachian brainy teens) and gregarious Tony (Michael Barbieri, terrific) become fast friends even as their disagreeing parents approach a legal crisis. The movie gets comic mileage out of the boys' shared love of acting class and video games (girls are just about to peek over the horizon), a blooming affection that speaks to Brooklyn's most celebrated virtue, its cross-cultural accommodation.
Working with screenwriter Mauricio Zacharias, Sachs has done peerless work in recent years depicting gay urban life without the usual Indiewood hyperbole. If their latest collaboration, a straight story, doesn't feel quite as revelatory as Keep the Lights On (2012) or the heartbreaking Love Is Strange (2014), it still impresses you with its quiet, confident maturity. In a larger sense, Little Men completes a trio of pictures devoted to the specific pressures of apartment dwelling and the daily grace required to coexist in a place that's home to millions. These films are the younger cousins to landmarks by Woody Allen and Spike Lee—they have a wisdom beyond their blocks.
Follow Joshua Rothkopf on Twitter: @joshrothkopf
Details
Release details
Cast and crew
Director:
Ira Sachs
Screenwriter:
Ira Sachs, Mauricio Zacharias
Cast:
Greg Kinnear
Jennifer Ehle
Paulina Garcia