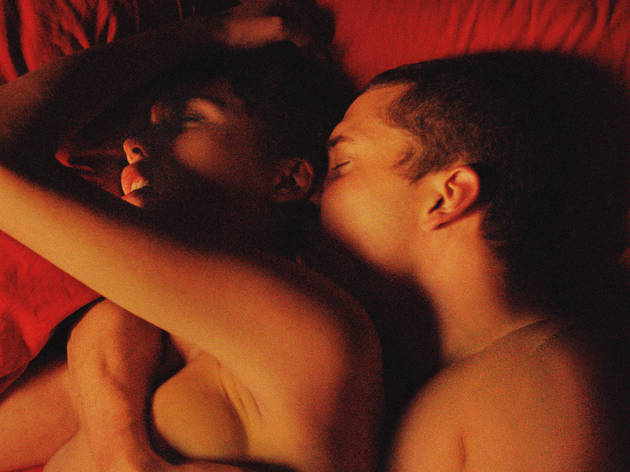 Time Out says
French provocateur Gaspar Noé dives into explicitly sexual melodrama with mixed results.
It promises all sorts of muck, and muck it delivers. Love is a 3-D sex film from Gaspar Noé, the French provocateur behind Irreversible (violence, rape) and Enter the Void (drugs, prostitution). It's filthy and has many of the foibles of porn—bad dialogue, can-I-borrow-some-sugar plotting—but Noé holds back from showing hardcore penetration, although it's hard to imagine his cast aren't actually having full-on sex here. In the end, Love is more silly than sordid, and even a little soppy in its late (too late) love-filled moments. Many teens will love it; most adults will roll their eyes.
It opens with Murphy (Karl Glusman, suicidally game), an American sort-of film student in Paris getting a handjob from his girlfriend Electra (Aomi Muyock, not the world's greatest actor). But it then emerges that these two have split, and Murphy, fatter and with a moustache, is now unhappily living with ex-neighbor Omi (Klara Kristin) and their toddler. The demise of Murphy and Electra's relationship, via orgies, drugs, betrayal and lots and lots of sex, is then revealed backward as in Noé's Irreversible. But time hops around much more here, so that what we get is more like a Paris-set, much raunchier and aggressive Blue Valentine with murky visuals, frank coupling and, of course, a centerpiece money shot that makes the most of 3-D (think about it).
You can't totally dismiss Noé as an empty showman. He knows how to create a nocturnal, queasy atmosphere like few filmmakers, and he's alive to our self-destructive ability to screw up our own destinies. And there are some strong non-sex moments, too, especially two long, back-to-back scenes of Murphy and Electra walking and talking, one at the start of their romance and one toward the end.
But Noé fatally undermines any serious purpose with tongue-in-cheek scenes featuring himself (in a wig) as Electra's older ex-boyfriend. Also, the film's flagrantly autobiographical elements (Murphy, like Noé, says he want to make films full of sex, violence and spunk) are distracting and self-regarding. There's a semi-decent film buried somewhere here, but it's nearly sunk by its need to shock and tease at almost every turn.
Details
Release details
Rated:
N/R
Release date:
Friday October 30 2015
Duration:
135 mins
Cast and crew
Director:
Gaspar Noé
Screenwriter:
Gaspar Noé
Cast:
Gaspar Noé
Aomi Muyock
Karl Glusman
Klara Kristin