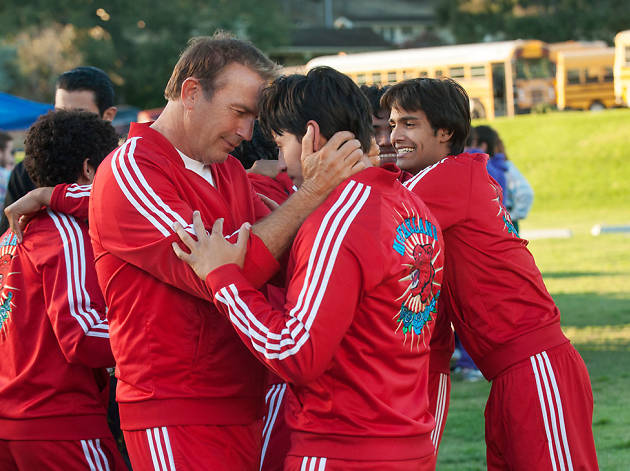 It may be the latest in a long line of condescendingly inspirational sports movies about a catalog Caucasian who learns that people of other races are also capable of being decent, but McFarland, USA is possibly the first of them not to feature a single training montage. Director Niki Caro (Whale Rider) allows this story to unfold with more patience and grace than the genre demands, though she's fighting an uphill battle against a script that thoroughly Disneyfies the legend of Jim White—whose last name makes the based on a true story title card read like an apology. The film takes us back to the fall of 1987, when a disgraced Idaho football coach (Costner, doing his thing) relocated his family to the eponymous California locale because its high school was willing to hire him as a gym teacher. There, in one of the poorest towns in America, White transformed a ragtag group of Latino teens into a leading national cross-country squad. The movie runs a long 128 minutes, but those boys never had the luxury of taking a shortcut.
Whatever the film's virtues, subtlety was never going to be one of them. When White, his wife (Bello) and their two young daughters first arrive in town, they can't even figure out how to order a taco. Of course, the socioeconomic circumstances that inform this story aren't particularly subtle in real life, either (the high school is next door to a prison—"Handy, huh?" observes one of White's fellow teachers). Caro paints with a broad brush, but her film still palpably conveys how these kids are racing for their lives. By the time McFarland, USA ends with an nod to the Mexican families who inspired it, the emotional wallop of learning their legacy makes it uncomfortably easy to overlook how the movie thinks their triumph belongs to White.
Follow David Ehrlich on Twitter: @davidehrlich
Release details
Rated:
PG
Duration:
0 mins
Cast and crew
Rating Breakdown
5 star:

0

4 star:

1

3 star:

0

2 star:

0

1 star:

0
Unlike Mr. Ehrlich, I can tell you that there really is a prison 100 yards from the high school. While the story over plays the racial tension that existed in the town, in 1987, it does speak to the die hard work ethic of the runners. Coach White can take credit for being the person who encouraged and inspired young people without any hope for a future away from the fields. The team dealt with victory and hardship together, and this story should inspire teenagers today. Because Mr. White and his wife invested time into this community, the entire culture of the community is now changed.