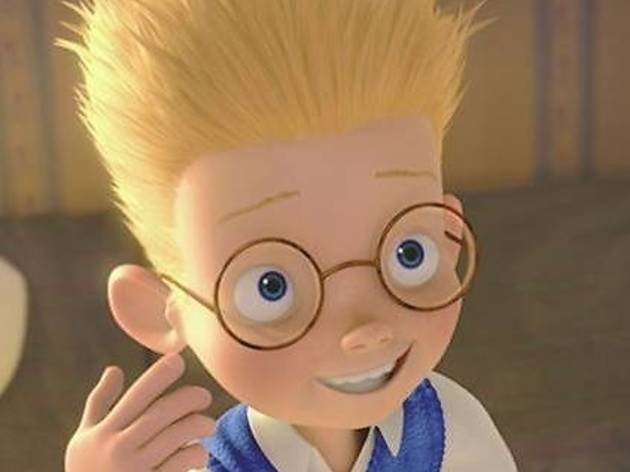 Time Out says
Touting its 3-D technology as "the future of cinema" (a claim that's been made for the medium since 1953), Disney is releasing
Meet the Robinsons
in nearly 700 3D theaters. Skip the movie, wait for the Epcot ride—though in this case, they may amount to the same thing. Less an adventure than a franchise in waiting,
Robinsons
feels made more for its merchandising possibilities than for fun. The characters seem conceived for goofy looks rather than personalities, the 3-D effects are perfunctory (save for a sprinkler explosion), and the story is just a pretext for pastel-heavy, post-Pixar design wizardry.
After his science-fair project blows up in his face, whiz-kid orphan Lewis (voiced by both Fry and Hansen) is spirited to the future by cowlicked teen Wilbur Robinson (Singerman). The time machine breaks, providing Lewis with an opportunity to meet Wilbur's extended family, which includes a team of alarmingly dogged food-fighters and an all-singing, all-frog bandstand (now appearing in multiplex commercials nationwide!).
The Robinsons' antics are fun, and so is the unnamed villain, sporting a Snidely Whiplash mustache and an Oddjob bowler hat. But Robinsons is also relentlessly self-plugging, glibly referencing Epcot's Tomorrowland and deriving its moral—keep moving forward—from an actual Walt Disney quotation. Father Disney used to turn fairy tales into movies; apparently, his own maxims are now the stuff of myth. 
Details
Release details
Rated:
G
Release date:
Friday March 30 2007
Duration:
95 mins
Cast and crew
Director:
Stephen Anderson
Users say