Mission: Impossible—Rogue Nation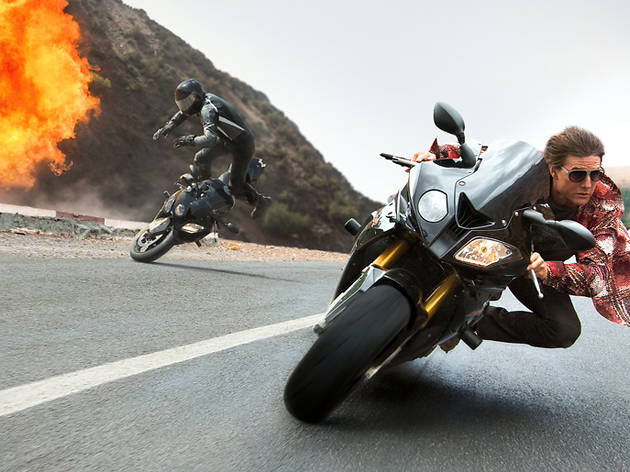 The spy franchise is on Cruise control.
Five Mission: Impossible movies in, and superspy Ethan Hunt still feels like a blank slate, a robot cursed with Tom Cruise's vacant grin. We learn nothing new about him in Rogue Nation other than the fact that he can hold his breath for three minutes and is really good at remembering stuff.
All of which leaves Jack Reacher director Christopher McQuarrie's would-be-edgier series entry feeling a bit uncentered—there's only so much dead air that sidekick Simon Pegg can fill with his nervy British prattling. These two are very much a double-act this time, as Hunt is declared a wanted man by the CIA and must track down the mysterious Syndicate (imagine Spectre on a budget) without his usual resources. They're aided and/or hindered, depending on her mood, by Rebecca Ferguson as slippery double agent Ilsa, the most interesting character in here by a mile.
Rogue Nation is an uneven film: In the strongly positive camp, we have the wonderful Sean Harris as a psycho with a wheezing voice, as well as a fistful of tight, not-too-flashy action scenes (short of some funny business with a plane at the start, there are no gravity-defying stunts this time). But the con column is a line or two longer, from the uninvolving plot and Cruise's hollow turn to Alec Baldwin delivering perhaps the most idiotic line ever heard in a major blockbuster. If this turns out to be Ethan's last impossible mission, we can't imagine he'll be greatly mourned.
Release details
Rated:
PG-13
Release date:
Friday July 31 2015
Duration:
129 mins
Cast and crew
Director:
Christopher McQuarrie
Screenwriter:
Drew Pearce
Cast:
Tom Cruise
Jeremy Renner
Simon Pegg
Rebecca Ferguson