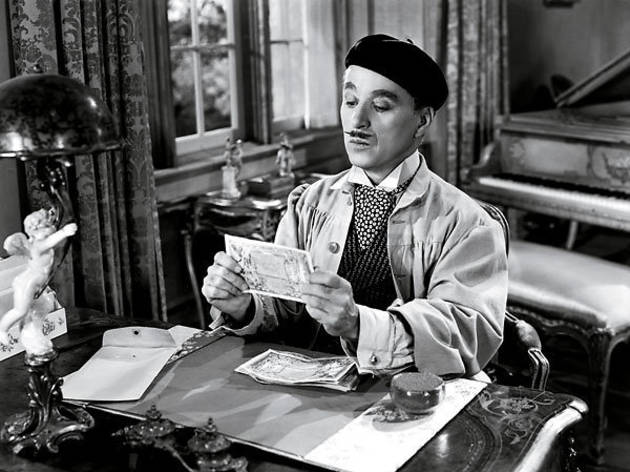 The act of being Charlie Chaplin, closet Communist and scandal-prone millionaire, had become too hard by the end of World War II. His resources such as they were, Chaplin decided to press on with his first film in seven years, killing off the Little Tramp and taking on the role of a money-loving Bluebeard with a taste for pointing out social hypocrisy. The character's final words to a court that's found him guilty of multiple murder: "I shall see you all…very soon."
There are few comedies as resoundingly defiant as Monsieur Verdoux. Harshly received at the time, it is now impossible not to see it as anything other than career commentary, revealing a verbally excoriating (though no less dandified) Chaplin implicitly connecting the dots between entertaining the masses and making a killing. You probably won't like this onscreen Charlie; that's largely the point. He is the monster grown out of capitalist urges—and if you think that sounds didactic, know that the idea reportedly came from Orson Welles not long after he did Citizen Kane.

As with many "lost films" that are rediscovered, the circumstances around that rebirth are just as fascinating: Monsieur Verdoux became a massive New York City sensation in the summer of 1964 during its extended revival. One wonders what was in the air that July that finally allowed Chaplin's sociopolitical satire in the door: A Shot in the Dark, free-floating nuclear anxiety, the Civil Rights Act. Monsieur Verdoux is the spirit of modernity taken to its darkest extreme. It may be immortal.

Release details
| | |
| --- | --- |
| Rated: | NR |
| Release date: | Friday June 13 2008 |
| Duration: | 124 mins |
Cast and crew
Director:
Charles Chaplin
Screenwriter:
Charles Chaplin
Cast:
Charles Chaplin
Martha Raye
Isobel Elsom
Marilyn Nash
Mady Correll
Irving Bacon
William Frawley
Charles Evans