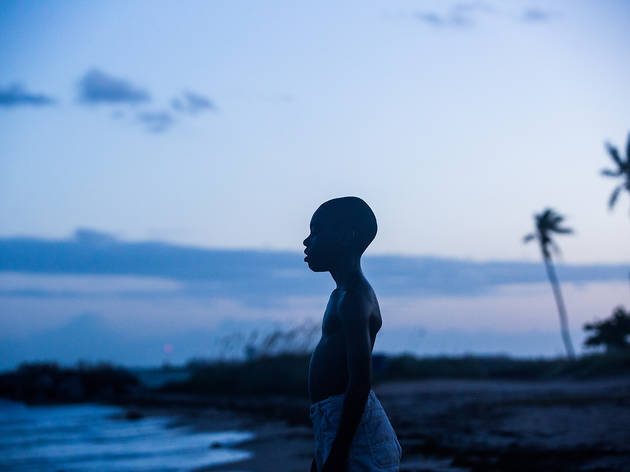 The tricky childhood of a poor Miami kid is the subject of Barry Jenkins finely etched indie portrait of African-American life.
The first miracle of Barry Jenkins's exquisite coming-of-age drama Moonlight—a heartbreaker filled with many such miracles—happens around a kitchen table. We've already seen the quiet, sullen Chiron (Alex Hibbert), a 10-year-old with frightened eyes, being chased by bullies; his short life has been a confused and painful one. And while the two adults who lean in aren't his parents (one of them is actually the drug dealer selling to Chiron's crack-addicted mom), they somehow know the exact words to say when the boy softly asks them, "Am I a faggot?"
Jenkins, an indie director whose first feature, Medicine for Melancholy (2008), alluded to a whole universe of African-American issues rarely explored onscreen, now goes even further into sociocultural terrain that here finds an uncommonly poetic voice. The barely-getting-by Miami of Moonlight—a place of needle-strewn drug dens, cheapo diners and the hot breeze that laps the shore at night—bears little resemblance to the one we usually see in the movies. But the film is more radical for articulating an internal sexual turbulence that doesn't fit the stereotype. It's not the one laid down by Brokeback Mountain or other crucial gay stories but something new, seething with anxiety, similar to the vibe you feel in the tense, ticking beats of Frank Ocean.
Chiron grows into a pinch-faced, haunted teenager (Ashton Sanders), the second portrayal of a character who ultimately gets three versions, all delicately shaded. (Trevante Rhodes's muscle-bound adult Chiron, hiding his pain behind a scary façade, is yet to come.) Moonlight eases into these phases with literary confidence: The script is based on Tarell McCraney's autobiographical play In Moonlight Black Boys Look Blue, but Jenkins throws off the constraints of the stage, with the film exploding into lush moments of classically scored Truffaut­–like sensation. At one point, the camera swirls with a bully who circles like a shark. It's a frightening spiral that suggests cycles with no end.
As for Moonlight's final passage—a decade later, with Chiron in the suggestive company of an old friend (André Holland), a romantic song playing on the jukebox—there's no sequence this year that matches it. Moonlight takes the pain of growing up and turns it into hardened scars and private caresses. This film is, without a doubt, the reason we go to the movies: to understand, to come closer, to ache—hopefully with another.
Follow Joshua Rothkopf on Twitter: @joshrothkopf
Release details
Rated:
R
Release date:
Friday October 21 2016
Duration:
111 mins
Cast and crew
Director:
Barry Jenkins
Screenwriter:
Barry Jenkins
Cast:
Alex R. Hibbert
Ashton Sanders
Trevante Rhodes
Naomie Harris
Andre Holland

Average User Rating
4.3 / 5
Rating Breakdown
5 star:

1

4 star:

2

3 star:

0

2 star:

0

1 star:

0
People told me this was amazing. Actually a lot of people. But wow, nobody warned me this was going to be emotionally striking. Praising this movie for being powerful is just an understatement.
Moonlight is one of best character study movies I've seen this year. The directing, the writing, score, and especially the acting is what this movie so freaking brilliant.
Director Barry Jenkins shot this movie in a very different and unique way. And I say "unique" as how this movie was filmed in a shallow depth that made the whole thing pretty intriguing. I wouldn't say he's directing is complete perfectionist, as there's plenty of room for improvement. Even if you don't like the choices he picked for a scene, but keep in mind that this doesn't equal bad directing. Lets not go that far. You can see that there's talent and he got a lot out of fantastic performances from all the actors.
Alex R. Hibbert, Ashton Sanders, and Trevante Rhodes all did a phenomenal job playing Chiron (the main character). Each of the actors builds on their character that the previous actor did. Despite the changes and the transformation, not once did you see a different person. There was never a moment where I didn't believe in a actor was giving a 100% their all or wasn't invested in the role. In my "A Monster Calls" review I said how great child actors are very rare in big budget movies, but not in indie. Several kid and teenage actors were all pretty fantastic in this, which is quite the accomplishment.
Naomie Harris and Mahershala Ali were both outstanding in this movie. It's one of performances I've seen from them. Even through their screen time is shot as Hopkins was in "Silence of the Limbs". And that's kinda impressive. Both manages to give anything in a small matter of time. It's really mind blowing and a real challenge.
But what really surprised me the most was Nicolas Battelle beautiful violin score. Why this took me by surprise is because who's expecting a score like that from a movie that takes place in a gangster ghetto setting. This movie is more of a personal film of are main characters experience than anything else. So music like this fits perfectly and I'm glad it didn't go for a terrible R&B song for once.
The writing is just top-notch and if you're an inspired writer, you should take notes from this. This is how you write great characters. Nothing cartoonist or anything that's one-dimensional. All the character's feel fleshed out and so natural to the point I forgot it was acting. And the best thing I can say about the film is that isn't predicable. I honestly didn't know where the story was going.
When I called this a "character study film", that's because of the arks the main character goes through that leads to the next scene. It starts off with Chiron as a shy child living in a crime ridden neighborhood in Miami with his crack addict mother. This leads to him meeting Juan (Mahershala Ali), which leads to him taking a lot from him (appearance wise) when an adult. Him being bulled at school leads to him being buffed, strong, and confident so none can pick on him ever again. But at the same time, he's hiding himself even more by being something that he's not. He acts gangster and talks in a American slang that I bet he doesn't fully understand. You can say different arguments to this, but how I see it, he's just getting better at hiding of who he really is. It's are journey through life that defines us as human beings. Same goes to the rest of the characters. I don't know about you, but that's pretty upsetting.
You know, for awhile I was pretty close of giving "Moonlight" the perfect rating that I never thought would happen. But what stopped me is the little flaws. Some of the editing choices didn't really hit at times and lucky it didn't happen too often. I also notice some sound errors in a few parts, but it's only tiny.
Overall rating: "Moonlight" is an original film that stays away from following a predicable path. I thought this was absolutely mesmerizing and was quite the experience that I didn't expect.