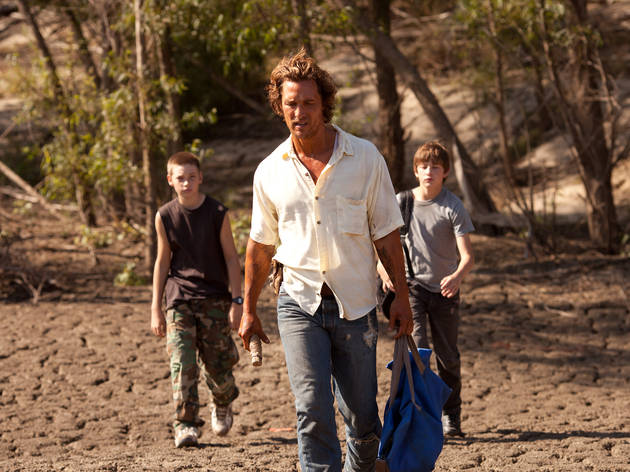 Time Out says
Arkansas teen Ellis (Tye Sheridan) is watching his life slowly unravel. His fisherman father's livelihood is drying up, Mom is talking about divorce, and it's looking like the state is going to raze the family home in an effort to modernize a moribund community. Even at the boy's molasses pace of living, the not long for this world unease is palpable. Ellis needs something to believe in, and he gets it when he and his friend Neckbone (Jacob Lofland) discover a charismatic loner- cum-father-figure named Mud (Matthew McConaughey) mysteriously living alone on a remote river island.
Writer-director Jeff Nichols once again aims for the incisive mix of allegory and verisimilitude that marked his two terrific prior features, Shotgun Stories (2007) and Take Shelter (2011). His sense of place is still unparalleled: The harshness and the beauty of this economically depressed setting, where nondescript Target strip malls share close quarters with mythically swampy backwoods, is vividly rendered in gritty widescreen compositions that give the proceedings an appropriately fablelike air.
But despite the best efforts of a cast that mixes unstudied newbies such as The Tree of Life's Sheridan with Hollywood prima donnas like Reese Witherspoon (a starlet-slumming-it distraction as Mud's dim-bulb inamorata), there's an overall clunkiness that Nichols is unable to overcome. The filmmaker's treatment of his adolescent protagonist's growing pains is featherweight and derivative—a recurrent visual motif of a boat stuck in a tree is a rudderless symbol—while a guns-ablaze climax feels more like a half-baked Night of the Hunter homage than the semi-rude awakening into adulthood the story demands. This thematic callowness is unfortunately pervasive, a sad regression for an artist whose work until now possessed a distinctive sophistication and maturity.
Follow Keith Uhlich on Twitter: @keithuhlich
Details
Release details
Rated:
PG-13
Release date:
Friday April 26 2013
Duration:
130 mins
Cast and crew
Director:
Jeff Nichols
Cast:
Reese Witherspoon
Matthew McConaughey
Michael Shannon
Tye Sheridan

Users say