Murder on the Orient Express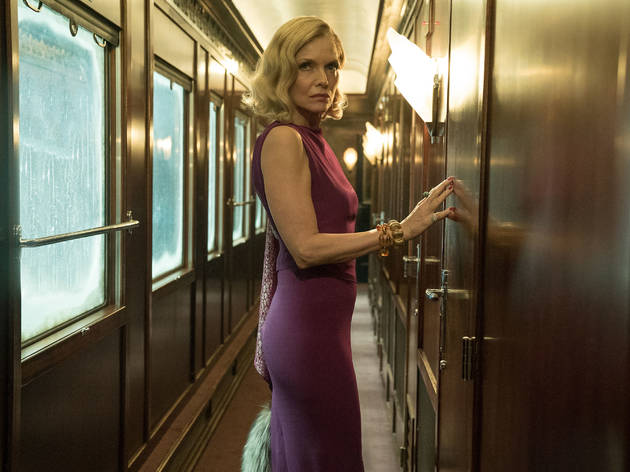 Time Out says
Kenneth Branagh directs and stars in a sporadically entertaining adaptation of the murder-mystery classic.
Glamorous travelers get stuck on a train while a murderer is on the loose; it's a good thing detective Hercule Poirot (director Kenneth Branagh) is among them. It's pleasantly easy to be distracted by the casting in Branagh's serviceable Agatha Christie adaptation, which, while just as glittering as Sidney Lumet's 1974 predecessor (also set in 1930s Europe), won't be bound for as many Oscar nominations.
Johnny Depp plays American gangster Ratchett, who looks nervously over his shoulder, as well he might. This corpse-to-be is accompanied by his henchmen Edward Masterman (Derek Jacobi) and Hector MacQueen (Josh Gad); fellow passengers include Princess Dragomiroff (Judi Dench), her maid Hildegarde (Olivia Colman), the religious Pilar Estravados (Penélope Cruz) and governess Mary (Daisy Ridley).
That's a lot of thespian heft, and this adaptation hasn't heard about quiet cars: First off, there's Branagh, hamming it up with a horrifying moustache that looms monstrously on the screen. His pompous, fussy one-liners are tired and unfunny. Several other actors are saddled with dialogue that's as creaky as the wheezing train brakes, indicating how increasingly hard it is to update Christie for a contemporary audience. Haris Zambarloukos's distracting cinematography doesn't help things, darting around the snowed-in train car as if pining for a bigger canvas.
But then there's Michelle Pfeiffer, luminous as the flirty widow Caroline Hubbard. She delivers one terrific scene that, along with her rascally appearance in Mother!, makes 2017 a strong Pfeiffer comeback year. Branagh's swift direction keeps the story zipping along to a tense conclusion—even if you remember whodunnit.
Details
Release details
Rated:
PG-13
Release date:
Friday November 10 2017
Duration:
114 mins
Cast and crew
Director:
Kenneth Branagh
Screenwriter:
Michael Green
Cast:
Kenneth Branagh
Johnny Depp
Michelle Pfeiffer
Penélope Cruz
Willem Dafoe
Judi Dench
Olivia Colman
Derek Jacobi
Daisy Ridley

Users say