Night Train To Lisbon: movie review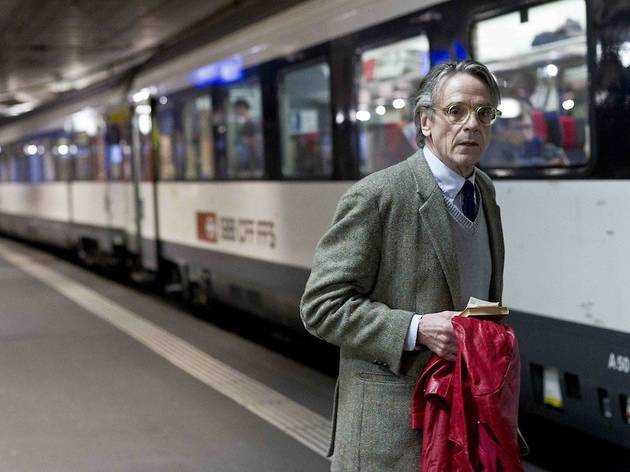 Nothing exciting ever happens to Swiss professor Raimund Gregorius (Jeremy Irons). He spends his days droning on about language to disinterested students, and his nights playing solitary games of chess. Rinse, wash, repeat. Then one rainy morning, he saves a lady in red (Sarah Bühlmann) from taking a headfirst dive off a bridge. She leaves behind her coat, which contains an obscure book by Amadeu do Prado (Jack Huston), a Portuguese author who lived during the Salazar dictatorship, as well as a train ticket to Lisbon. Nothing ventured: Off Gregorius goes to unravel the mystery of this enigmatic writer as well as to jump-start his own humdrum life.
Don't expect much of an adrenaline rush, however, from Bille August's monumentally dull adaptation of Pascal Mercier's best-selling philosophical novel. The story hops frequently between past and present, and features spy plots, a love triangle, heady discussions with a beautiful optician and a terrific-in-theory Europudding cast (Christopher Lee, Bruno Ganz, Lena Olin, Charlotte Rampling, etc.). Yet tedium quickly sets in, especially after it becomes clear that all the historical and intellectual intrigue is a perfunctory pretext for Gregorius (a self-described "bore") to cast off the midlife shackles and embrace his inner romantic. Take the last train to anywhere but here.
Release details
Cast and crew
Director:
Bille August
Cast:
Jeremy Irons
Mélanie Laurent
Jack Huston

Rating Breakdown
5 star:

0

4 star:

0

3 star:

1

2 star:

0

1 star:

0
don't exaggerate, we are tired of violent films full of empty stories with nothing inside, and critics speak wonders of them because of the power of the producers and the money invested. Yes, this is a film without much energy, and maybe the flash-backs of the plot are a little bit too basic, but just for some deep thoughts and for the sober performance of Irons and the chaotic performance of Bruno Ganz, and the beauty of Lisbon, the film is worthwile, not worst than many productions like August where Streep seems one crazy "napolitana" , overacting like in our worst dreams. The train to Lisbon would like to those who still loves the smell of old books,