Nosferatu the Vampyre: movie review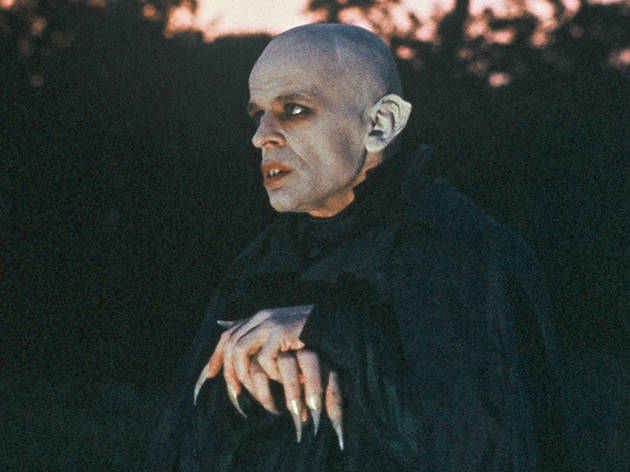 Time Out says
He'd already filmed one movie in the Peruvian rain forests (Aguirre: The Wrath of God) and shot another (Heart of Glass) in which almost the entire cast was under hypnosis. Never one to shy away from a challenge, quixotic German director Werner Herzog set his sights on remaking F.W. Murnau's classic silent Nosferatu (1922), one of the many, and certainly among the most influential, adaptations of Bram Stoker's beloved vampire novel Dracula. It would take a special kind of artist to measure up to Max Schreck's iconic performance in Murnau's film—a crazy one, really, and who better than Herzog's perpetually hotheaded muse Klaus Kinski?
We have to wait for his entrance, of course. All the better, as Herzog sets a surreally moody stage: Doc-like images of mummies at eternal rest segue into slo-mo scientific footage of a bat descending on its prey, all of which turns out to be a nightmare experienced by the film's ethereal heroine, Lucy Harker (Isabelle Adjani). It's a premonition—something evil is afoot, and it involves both herself and her doting husband, Jonathan (Bruno Ganz), a real-estate agent tasked with selling an abandoned local property to Kinski's Transylvania-residing Count Dracula. When the bloodsucking specter himself appears, it truly feels like one of those "ecstatic" visions that Herzog so often talks about capturing. Kinski's already-demonic countenance is heightened by pale-skin makeup, severely deformed ears and a pair of pointy buck teeth that makes him seem like a ravenous rat. Where he goes, death and destruction follow.
There are few sequences in Herzog's oeuvre as chillingly poetic as the one in which the plague descends on Lucy and Jonathan's hometown. Vermin run rampant, the bourgeoisie cheerily toast their own demise, and the Count himself slinks around, in one of the film's most haunting images, with a black coffin tucked lovingly under his arm. This is a pinnacle of horror cinema: atmospheric, rhapsodic and—especially in the slow-burn confrontations between Lucy and her otherworldly inamorato—achingly transcendent.
Follow Keith Uhlich on Twitter: @keithuhlich
Details
Release details
Rated:
R
Release date:
Wednesday January 17 1979
Duration:
96 mins
Cast and crew
Director:
Werner Herzog
Screenwriter:
Werner Herzog
Cast:
Klaus Kinski
Isabelle Adjani
Bruno Ganz

Users say