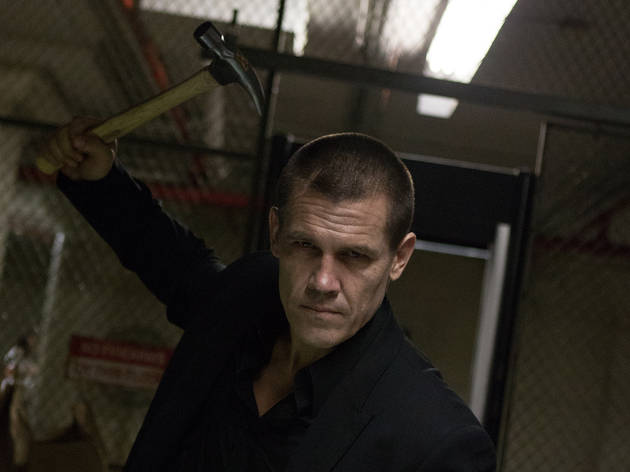 Spike Lee's gotta be Spike Lee: He's the Scorsesian movie geek, the inflammatory tweeter, the indie-to-Hollywood survivor. He still thrives on discontent—a trait as NYC as a Greek cup of coffee-cart swill—and even Lee's most recent decade showcases his municipal rage (Inside Man) and social unease (Red Hook Summer), as well as sadness in the 9/11-laced 25th Hour, an all-time keeper.
Vaguely, you can recognize that guy in Lee's Oldboy, a slick remake of an especially violent 2003 revenge thriller by Korea's Park Chan-wook. The plot is pure bonkers: A businessman is mysteriously kidnapped, imprisoned for 20 years in a tiny hotel room, then, just as cryptically, released to seek out answers. But like a pro, the director owns it, roughing up the pulp with mouthiness. Josh Brolin, as the captive Joe, is one of those blowsy mad men, riding high on vodka fumes and a divorcé's anger. It's wonderful watching him suffer, the years passing by in a blur. Pathetic meals of takeout dumplings come through a chute, and images of presidential inaugurations are piped in via monitor.
When Joe finally emerges, into a faintly unreal today (shot in New Orleans, the city isn't named), he has The Sopranos' Michael Imperioli as a bar-owning friend to greet him and supply a little squawk. Where's Joe's daughter?
Fans of the first Oldboy are going for an action scene involving a hammer and several unlucky skulls—that's here, but I'll take Lee's desperate bike chase through Chinatown over it. Weaknesses from the original remain, including a mustache-twirling villain straight out of a Bond film (Sharlto Copley) and a Freudian master plan that unravels the more you think about it. Give credit to Lee for staying fresh, even if this feels like slumming.
Follow Joshua Rothkopf on Twitter: @joshrothkopf
Release details
| | |
| --- | --- |
| Rated: | R |
| Release date: | Wednesday November 27 2013 |
| Duration: | 104 mins |
Cast and crew
Director:
Spike Lee
Screenwriter:
Mark Protosevich
Cast:
Elizabeth Olsen
Samuel L. Jackson
Josh Brolin
Sharlto Copley
Michael Imperioli