Once Upon a Time…in Hollywood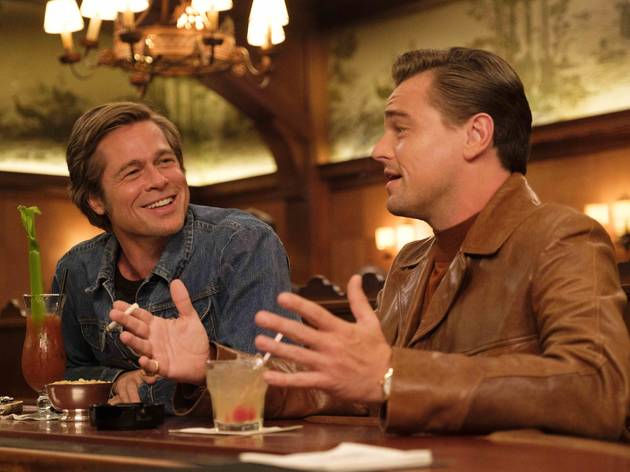 Time Out says
Quentin Tarantino's buzzy alt-history of late-'60s Hollywood puts truth in a bong and smokes it.
Review by Dave Calhoun
The sort of high-wire, playfully enjoyable riff on movies that only Quentin Tarantino could get away with, Once Upon a Time…in Hollywood is a massively fun shaggy-dog story that blends fact and fiction, inserting made-up characters at the heart of real, horrible events (Charles Manson horrible) and then daring history to do its worst. Sitting at the mature, Jackie Brown end of Tarantino's work, the film is also a love letter to Los Angeles and the film industry, bringing his tongue-in-cheek storytelling together with exquisite craft and killer lead performances from Brad Pitt and Leonardo DiCaprio. And yet, it's still very much a Tarantino film, trading in genuine emotion one minute, unapolegetically silly the next.
Tarantino starts with Hollywood in the era of the Manson murders—specifically, the slaying of starlet Sharon Tate and her friends in August 1969—and retells the story on his own terms, first over a few days in February 1969 and then, six months later, over the weekend of the killings. That means we're spending nearly the whole movie wondering how this director is going to deal with the actual historical tragedy. For the answer to that, you'll just have to sweat it out. Let's just say this: Tarantino somehow manages to carve good taste out of bad.
Nonfictional characters pop up throughout: the doomed Tate (Margot Robbie), Nixon-era celebrities Steve McQueen (Damian Lewis) and Bruce Lee (Mike Moh), the Manson gang (one of whom is played by Lena Dunham). But at the heart of the movie is a friendship that's pure fiction: Leonardo DiCaprio is Rick Dalton, an overly emotional, hard-drinking TV cowboy who fears his time might be over; while Brad Pitt is Cliff Booth, his stuntman, driver and friend. Pitt's Booth is a good man with a dark side, and he's unafraid to challenge Lee to a fight when they're hanging around a studio lot.
The co-leads are excellent together, conversational and sparky; it's hard not to be reminded of John Travolta and Samuel L. Jackson in Pulp Fiction. The Manson murders are often held up as the end of one era and the beginning of another, and these two old-school, Sergio Leone–esque survivors (that title is no accident) are designed to lead us across the threshold into another time, uncertain of it though they may be. Tarantino has the future whispering in the ear.
Once Upon a Time…in Hollywood is filled with nods to Tarantino's earlier films: the counterfactual ultraviolence of Inglourious Basterds; the love of Westerns, seen in both Django Unchained and The Hateful Eight; even the celebration of stuntmen (and women struggling to break into the business) in his tight Death Proof from Grindhouse. Entire sections of the new film slip into a movie-TV pastiche, and Tarantino indulges period details right down to the ads on the radio and the perfectly dated Sunset Strip signage. There are endless little moments, including a touching one when Tate goes to the movies alone to see herself onscreen with Dean Martin in The Wrecking Crew.
Entire sections have a stand-alone confidence, such as when Pitt's Cliff turns up at the Spahn Ranch, then the adopted home of the Manson family, after randomly picking up an alluring hippie hitchhiker (Fosse/Verdon's magnetic Margaret Qualley). It's this kind of storytelling bravado that ties the whole thing together. Tarantino even gives one section a voiceover and then drops it because—well, just because he's Tarantino and that's what he does.
That's the mood of the film: gleefully all over the place—just like the two main characters cruising through their lost L.A.—yet totally together and meaningful. In a style that's all his own, Tarantino evokes a time of seismic change, leaving us to sift out the cultural wreckage, as dangerous as that feels.
Details
Release details
Rated:
R
Release date:
Friday July 26 2019
Duration:
161 mins
Cast and crew
Director:
Quentin Tarantino
Screenwriter:
Quentin Tarantino
Cast:
Brad Pitt
Leonardo DiCaprio
Margot Robbie
Damian Lewis
James Marsden
Dakota Fanning
Margaret Qualley