One Direction: This Is Us: movie review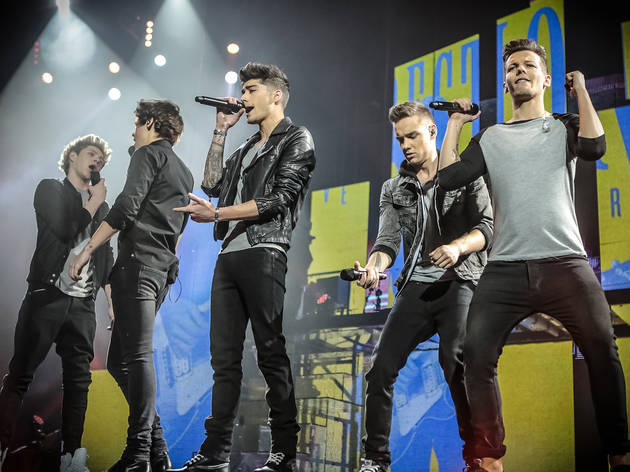 It may be just an hour-and-a-half commercial for the new single, "Best Song Ever," and a victory lap following a successful arena tour, but credit where it's due: This behind-the-scenes look at the English-Irish boy band du jour captures the group's unpretentious stage show and regular-joe nature in all their glory. The film recounts their history—the quintet competed individually on U.K. singing contest The X Factor in 2010, only to be lumped together as a bubblegum juggernaut by pop-music overlord Simon Cowell (who appears in the first few minutes to take credit, then thankfully disappears). Not even His Satanic Majesty's smarminess, however, could obliterate their earnestness and charm on the way up the charts.
Less successful is the travelogue that takes up much of the running time, memorable mainly for how similar it makes each city seem: screaming fans, stadium greenroom, impossibly big stage, rinse, repeat. Adoring hordes will no doubt devour shots of shirtless head hunk Harry, simmering "quiet one" Zayn and the others goofing on their minders, while nonacolytes will giggle over the Jackass-lite pranks that seem to fill most of their downtime. Any suggestions of alcohol, drugs or Taylor Swift are, predictably, absent.
For his part, documentarian Morgan Spurlock (Super Size Me) adds a few quirks: bringing out a neurologist to cheekily explain the science of fandom. (Shrieking girls are dopamine junkies, people!) The boys' parents—mainly working-class, some divorced—reflect on the empty nests the group's success has left behind. One mum worries what'll happen after the spotlight fades and she's left to "pick up the pieces"; another buys a cardboard cutout of her son at the MSG gift shop to kiss good night. Those moments of levity mixed with a bit of local-lads-made-good reportage give some needed direction to the band's otherwise unfinished story.
Follow Andrew Frisicano on Twitter: @apfpower
Release details
Rated:
PG
Release date:
Friday August 30 2013
Duration:
95 mins
Cast and crew
Director:
Morgan Spurlock
Cast:
Harry Styles
Louis Tomlinson
Niall Horan
Liam Payne
Zayn Malik