Private Fears in Public Places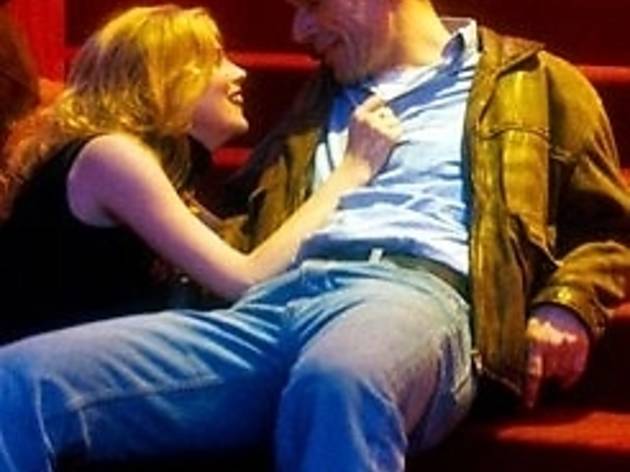 With
Private Fears
, the French New Wave's poet of loss and disconnection looks inward. Resnais's theatrically stylized new movie is set in a snow globe Paris—almost literally. Exteriors, when glimpsed, are blatantly artificial, and most scenes end with a fade to falling snow. Adapted from a play by Alan Ayckbourn, the plot involves six major characters, each of whom suffers from a form of unrequited passion. They pine for one another and are pined for in turn, but they never end up with a person who loves them back.
Real-estate broker Thierry (Dussollier) is smitten with coworker Sabine (Azéma), who's ostensibly devout and therefore uninterested. Sabine moonlights as a caregiver for the surly, unseen father of Lionel (Arditi), a bartender who admires Sabine and who regularly waits on Dan (Wilson), an alcoholic reconsidering his engagement to Nicole (Morante). Dan's date with Gaelle (Carré), Theirry's preposterously young sister, provides the movie with its happiest interlude, but the hermetic scenario won't stand for it: Opportunities for love are limited, Resnais suggests, and if you miss them, you're out of luck.
The movie rises and falls on Resnais's striking visual flourishes—the way he photographs the bizarre pastel interiors of the bar, or the way he accentuates a climactic scene with a lyrical indoor snowfall. But the material itself seems trite and obvious—melodramatic deadweight at odds with Resnais's airy imagery. 
Release details
Cast and crew
Director:
Alain Resnais
Screenwriter:
Jean-Michel Ribes
Cast:
Sabine Azéma
André Dussollier
Lambert Wilson
Isabelle Carré
Pierre Arditi
Nicole Laura Morante
Claude Rich