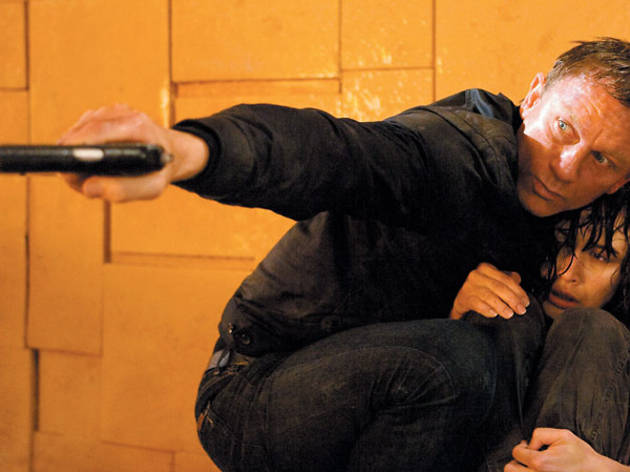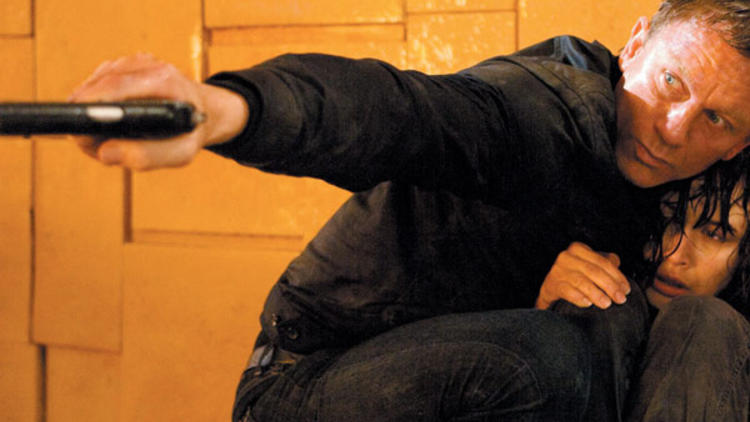 The thrilling Casino Royale took Bond and gave him weaknesses—he had to learn not to love, not to trust and not to drink from a poisoned glass during a swank round of Texas Hold 'Em. Picking up directly where the last film left off, Quantum of Solace soon reverts to the bland proficiency of the Roger Moore era, circa For Your Eyes Only. In 40 minutes, we get a car chase, a rooftop chase and a speedboat chase but not a single memorable line. (It doesn't help that the rooftop pursuit, set in scenic Siena, Italy, is so choppily edited, you half expect it to continue in Switzerland.)
The suspicion that this is a placeholder Bond begins with the generic thwompfest Jack White and Alicia Keys have cooked up for the credits and ends with an epilogue that could have easily followed from Casino Royale. In the interim, Quantum spins its wheels with a bit of intrigue involving a murderous industrialist named Dominic Greene (Amalric, neutered), who uses his environmental organization, Greene Planet, to prop up a Bolivian dictator, a story that echoes various real South American scandals. Quantum marks a milestone of relativism in the Bond universe—"If we refuse to deal with villains, we'd have almost no one left to trade with," a British official warns M (a superbly seasoned Dench). Meanwhile, the Bond girls—headliner Olga Kurylenko, disposable Gemma Arterton—enter and exit so perfunctorily that 007 seems suaver when dodging a passport hold.

To be fair, Craig is still the best Bond since Connery, and a Man Who Knew Too Much–style set piece at a Vienna opera house momentarily offers the fleetness and wit the rest of the film lacks. Much has been made of the absence of Bond's signature quips, but there's something else that's absent: interest.
Release details
| | |
| --- | --- |
| Rated: | PG-13 |
| Release date: | Friday November 14 2008 |
| Duration: | 105 mins |
Cast and crew
Director:
Marc Forster
Screenwriter:
Paul Haggis, Neal Purvis, Robert Wade
Cast:
Daniel Craig
Mathieu Amalric
Judi Dench
Gemma Arterton
Jeffrey Wright
Jesper Christensen
Giancarlo Giannini