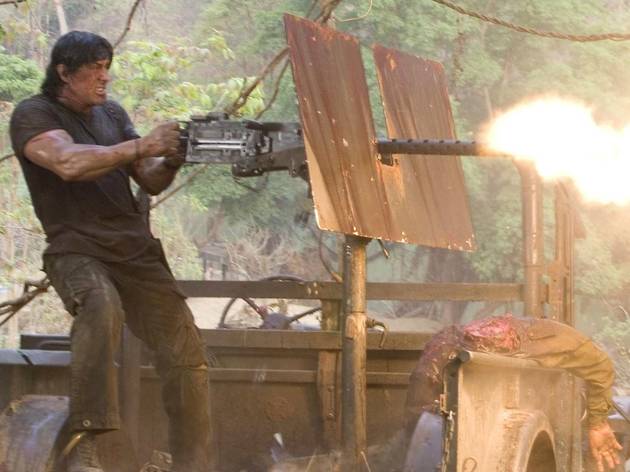 A whirling Rambocalypse cometh. You can tell by the way the new film showers you with gore long before our hero rises from his Thai slumber as an anonymous boatman. (Stallone, a lumpen presence, looks like he's taken to the local noodles.) Evil Burmese militiamen torture women and children by making them run over land mines. Limbs and heads go airborne. A comely American missionary (Benz) convinces a reluctant Rambo to deposit her and her flock upriver; soon enough, her God squad is blown to smithereens, hacked apart or caged like animals.
Welcome to real grindhouse. Grungy and utterly unnecessary, Rambo is a completely cynical product, yet a shockingly pure one. We laugh at Stallone, reviving another inert franchise. But he's always been underrated as a genre writer, one who held his script of Rocky close until he could star in it. Rambo, which Stallone coscripted and directed, is missing some of the plot elements that made the previous installments slightly more artful—particularly Richard Crenna's barking ex-commander, an excellent press agent ("God would have mercy…he won't!").
In their place comes a ravenous shark of an action film, dumb and propulsive, seemingly inspired by some of the dicier '70s Italian cannibal films. None of Rambo's antagonists have names; none of them speak English or enjoy a villainous equanimity. It's all slash and burn. In their Reagan moment, the earlier movies served as Vietnam correctives. This one feels even more timely, a bloodbath and quagmire motivated by fuzzy issues of faith. It's the Rambo we deserve.
Release details
Rated:
R
Release date:
Friday January 25 2008
Duration:
93 mins
Cast and crew
Director:
Sylvester Stallone
Screenwriter:
Sylvester Stallone
Cast:
Sylvester Stallone
Julie Benz
Matthew Marsden
Graham McTavish
Rey Gallegos
Jake La Botz
Maung Maung Khin
Paul Schulze