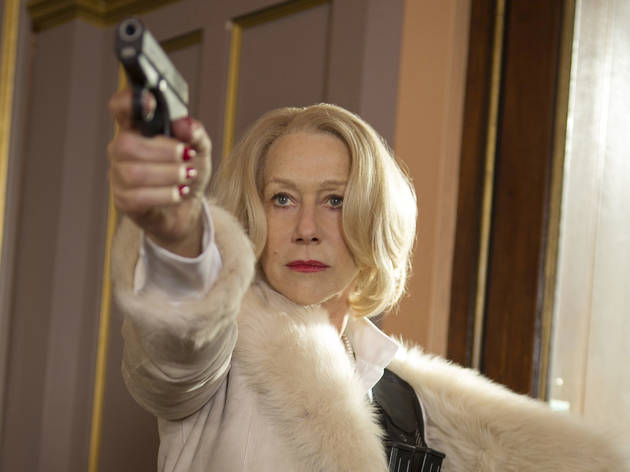 Time Out says
Frank Moses (Bruce Willis) is living the high life following his assassin-evading exploits in the first Red (2010). That means that this Retired and Extremely Dangerous former CIA agent is keeping a coolheadedly low profile with his wife, Sarah (Mary-Louise Parker), in between pantry-stocking trips to Costco (the first of many shameless product placements). But trouble comes calling when Frank's scatterbrained partner, Marvin (John Malkovich), informs him of a mysterious man-woman-object known as "Nightshade" that several superpowers are itching to get their hands on.
Time to get the band back together for a little globehopping derring-do—everyone from old "friends" like stoic British sniper Victoria (Helen Mirren) and her sometime Russian lover, Ivan (Brian Cox), to new faces like mad scientist Bailey (Anthony Hopkins) and sensuous Soviet assassin Katja (Catherine Zeta-Jones). Villains include vengeful Chinese martial artist Han (Byung-hun Lee) and bespectacled arms dealer the Frog (David Thewlis), though allegiances shift as frequently as this tiresome sequel whiplashes between old-folks-with-guns farce and soul-sappingly demoralizing violence.
One moment Mirren and Cox are doing some delightful romantic canoodling while rescuing their imprisoned compatriots, the next the Iranian embassy is being shot up with a stone-faced indifference that seems tone-deaf to real-world tensions and hostilities. (The satisfyingly satirical edge director Dean Parisot displayed in 1999's Galaxy Quest appears to have abandoned him.) As in the first film, the seasoned-pro cast provides the few fleeting pleasures to be found. It's amazing how Parker's flighty insouciance or Malkovich's patented peculiarity (where else can we see this inimitable performer decked out in a Carmen Miranda fruit headdress?) makes us think, if only for a moment, that we're truly enjoying ourselves.
Follow Keith Uhlich on Twitter: @keithuhlich
Details
Release details
Rated:
PG-13
Release date:
Friday July 19 2013
Duration:
116 mins
Cast and crew
Director:
Dean Parisot
Screenwriter:
Jon Hoeber, Erich Hoeber
Cast:
Bruce Willis
Helen Mirren
John Malkovich
Mary-Louise Parker
Anthony Hopkins
Catherine Zeta-Jones

Users say