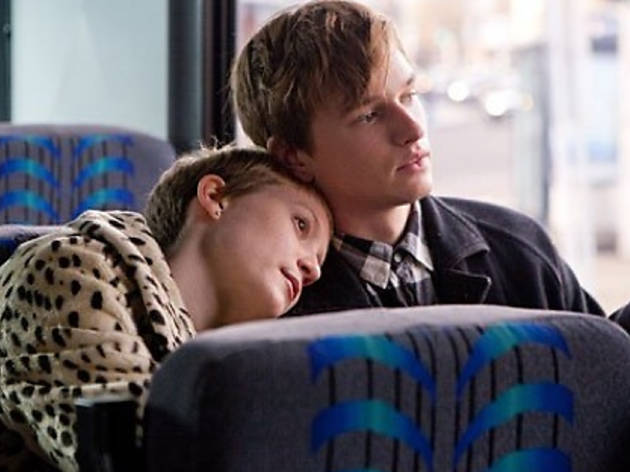 American filmmaker Gus Van Sant re-entered the mainstream with his last film, 'Milk', putting behind him the variable but impressive experiments of 'Gerry', 'Elephant' and 'Last Days' and bagging Sean Penn an Oscar along the way. His new movie, 'Restless', which opens the Un Certain Regard section of the Cannes Film Festival, is from a script by a young playwright, Jason Lew, is produced by actress Bryce Dallas Howard (son of Ron, who executive produces) and hovers very uneasily between his opposing commercial and experimental sensibilities.

It's sad to say, 'Restless' is an almighty dud. Van Sant crashes back to Earth with a tasteless and whimsical riff on teen romance and death in which he tries to recast the American suburbs as a fairytale world in which passion, imagination and a love of nature can counter the debilitating effects of cancer and grief.

There's an ethereal, autumnal atmosphere to the story of Enoch (Henry Hopper, son of Dennis) and Annabel (Mia Wasikowska), two youngsters who meet at a funeral – a sign of quirky things to come. Enoch attends strangers' burials as a reaction to a crisis in his own family, while Annabel has donned a black veil to say goodbye to a child from the hospital where she's being treated for a terminal illness. The film tracks Enoch and Annabel's friendship and love as they shut themselves off from the adult world and embrace a final tragic-romantic fling.

The story unfolds in an unnamed American suburb with nature, trees and water all around. Annabel loves to talk about Charles Darwin and sketch birds. Enoch, meanwhile, has a close friendship with Hiroshi (Ryo Kase), the ghost of a Japanese kamikaze pilot, initiating an insulting flash of archive footage of Hiroshima or Nagazaki. Both lovers are immaculately over-styled, and Enoch's hanging blonde fringe rivals his suits and wing collars for our attention. These two loveable outlaws talk in a laidback, dead tone, throwing ideas into the cosmos to burn up and die: 'So, I was thinking of donating my body to science,' she says suddenly; 'I wish I could do more, like, take you to the Galapagos,' he offers at one shameful juncture.

It takes more goodwill than is humanly possible not to find Lew's screenplay way wide of the mark in its attempt to show the reality of these kids' traumas while at the same time creating the air of an innocent fairytale. There's so much happy, smiling talk of death that you think: surely this is a narrative trick? Surely there's more of a mystery to all this dressing-up-box tragedy and we're not only watching two fashionably-doomed kids being photographed with an astonishing level of indulgence? Are they actually already dead? Is this whole film playing out in the same sort of purgatory from which we're watching?

The answer is no. It's a straight story, all surface and no thought. It feels simultaneously too laidback and too mannered. There's no denying that 'Restless' is a good-looking film, thanks to the attractive and often beautiful work of Van Sant's director of photography, Harris Savides – but considering the story in hand, that mostly makes things worse as it widens the gulf between the imagery and the events.
Cast and crew
Director:
Gus Van Sant
Screenwriter:
Jason Lew
Cast:
Mia Wasikowska
Jane Adams
Schuyler Fisk
Henry Hopper