Rolling Thunder Revue: A Bob Dylan Story by Martin Scorsese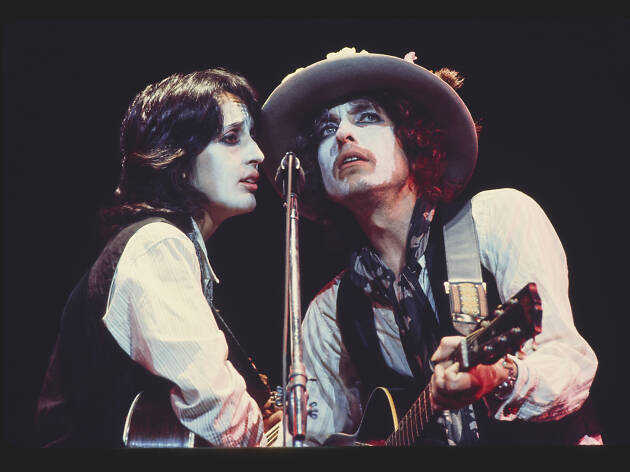 Time Out says
Martin Scorsese's new Netflix concert film brings a mischievous spirit to Bob Dylan's unique '70s tour.
Bob Dylan certainly gives good Bob Dylan in Martin Scorsese's new time-capsule concert film. Back in 1975, after a particularly blistering gig during the ramshackle Rolling Thunder Revue tour, a cameraman asks the singer, "How was it?" "How was what?" responds the famously oblique musician. When asked to comment on the same tour now (it's Dylan's first on-camera interview in a decade), he says it was "about nothing—it's just something that happened 40 years ago. It happened so long ago I wasn't even born." So continues, from one of music's most revered figures, the utter irreverence.
The Rolling Thunder Revue was a willfully eccentric tour. Itching to play smaller venues, an exceptionally freewheeling Dylan went on the road with a revolving door of folk all-stars, followed by all-access cameras for a film that never quite came together. (The less said about the Dylan-directed Renaldo and Clara, an experimental, almost-four-hour-long 1978 film which came out of the tour, the better).
Today, Scorsese intercuts the old footage with new interviews, contextualizing it all with the post-Watergate times that were a-changin'. The film is full of stolen moments: Dylan and Allen Ginsberg visiting Jack Kerouac's grave, impromptu jams at house parties, painfully candid conversations with Joan Baez. It rarely strays from the man himself, but if you're here for Dylan, that's fine.
There's a lot of playfulness—it's high-level Dylan Studies. Just as the singer often wore a magician's white face (or even a plastic mask) on this tour, Scorsese is having fun infusing his own flow with subtle fictionalizations that may outfox you. (Among Scorsese's co-conspirators are Sharon Stone and Michael Murphy, appearing as "presidential candidate" Jack Tanner.) Scorsese's doc appears like one thing but sounds like another. It totally gets it.
Details
Release details
Rated:
N/R
Release date:
Wednesday June 12 2019
Duration:
142 mins
Cast and crew
Director:
Martin Scorsese