Rosemary's Baby: movie review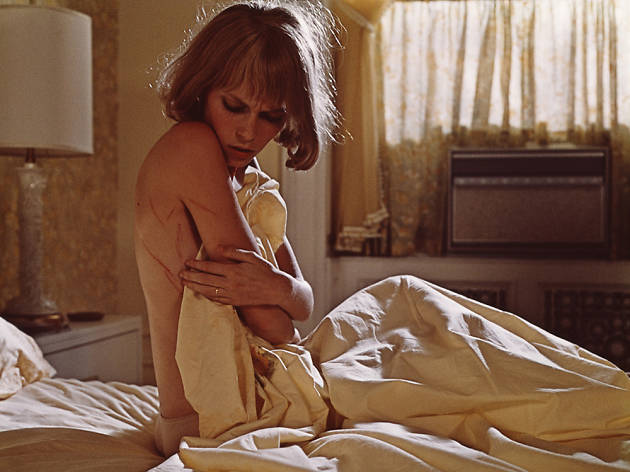 The movie has a fearsome reputation, so let's go in through the side door. Ignore that creepy la-la-la music over the opening credits, along with the ominous facade of the Dakota—it's only an apartment building, a touch more Gothic than most. Rosemary (Mia Farrow) and Guy (John Cassavetes) eat dinner out of takeout cartons, sitting on the floor of their furniture-free space. You hear the traffic outside, an airplane flies by, the couple have Wednesday sex; nothing could be more mundane. They talk about typical young-married stuff: jobs, money, haircuts. A nosy next-door neighbor, Minnie (Ruth Gordon), isn't anything out of the norm either.
We're not quite in a documentary—Roman Polanski is too careful with his camera—but it might as well be one, or a drama, a contemporary slice of cosmopolitan anxiety set on the same wing as the Draper residence. Modern is exactly what Rosemary's Baby is, and why it's still so major, the supernatural elements seeping in via the cracks. Could all of our heroine's nerves be just a bad dream? Suddenly, she's pregnant, and in come the doctors, including a bearded, close-to-parody obstetrician cutting off her guff and recommending a daily milkshake. The brilliance here—a fair amount of it due to novelist Ira Levin, also of The Stepford Wives—is diversion: Who actually expects the devil in the details? Hollywood trembled after this film came out—they couldn't go back to Transylvania anymore. Fear was all around us, and the better thrillers have kept it there.
Follow Joshua Rothkopf on Twitter: @joshrothkopf
Release details
Rated:
R
Release date:
Wednesday June 12 1968
Duration:
136 mins
Cast and crew
Director:
Roman Polanski
Screenwriter:
Roman Polanski
Cast:
Mia Farrow
Maurice Evans
Elisha Cook
Patsy Kelly
John Cassavetes
Ralph Bellamy
Angela Dorian
Ruth Gordon
Charles Grodin
Sidney Blackmer