Runner Runner: movie review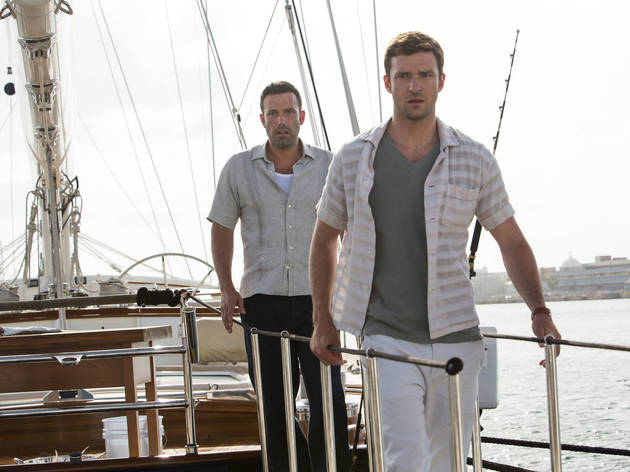 Pity the poor Princeton grad student Richie Furst (Justin Timberlake): He's facing expulsion from his program for encouraging gambling on campus and he's just lost all his tuition money in online poker. A closer look, however, reveals that the game may have been rigged, so it's off to Costa Rica for a hastily improvised meet-up with the betting site's obscenely rich founder, Ivan Block (Ben Affleck). It isn't long before Richie is brought into Ivan's fold, tasked with overseeing his new boss's extensive financial operations. But is our go-getter protagonist being played?
Of course he is, though this slick, suspense-free thriller from director Brad Furman (The Lincoln Lawyer) never makes you care one way or the other. It's primarily a vehicle to show off a tailored suit–clad Timberlake as he swans around the seedy tropical locale, a place where you're as likely to grind the night away with a buxom beauty—in this case Gemma Arterton's humdrum femme fatale—as be devoured by ravenous crocodiles. Affleck and Anthony Mackie do some rote alpha-male scenery chewing as J-Tim's nemeses, and John Heard lends some welcome gravitas as our protagonist's deadbeat dad. Otherwise, this is little more than an expensive-looking celebrity vacation video—more evidence in support of the notion that the Hollywood house always wins.
Follow Keith Uhlich on Twitter: @keithuhlich
Release details
| | |
| --- | --- |
| Rated: | R |
| Release date: | Friday October 4 2013 |
| Duration: | 91 mins |
Cast and crew
Director:
Brad Furman
Screenwriter:
Brian Koppelman, David Levien
Cast:
Gemma Arterton
Ben Affleck
Justin Timberlake
Anthony Mackie