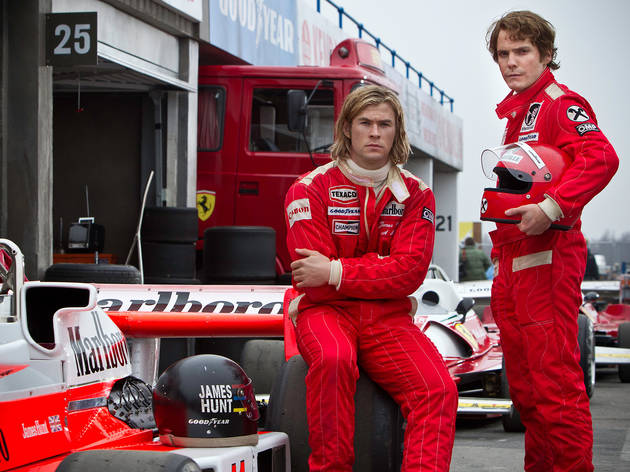 Given the movies' love of car chases, you'd think more films would be made about the professionals who do it for a living. Scratching an itch, this Formula One drama has a lot going for it at the starting line: a real-life 1976 rivalry between magnetic competitors James Hunt (Chris Hemsworth) and Niki Lauda (Daniel Brühl); a burnished, beer-commercial glow courtesy of inspired cinematographer Anthony Dod Mantle; and the director of the original Grand Theft Auto, Ron Howard. Hunt, a playboy, and Lauda, severe and calibrated, make for obvious friction: Rush's coleads could have used a few more moments of quiet intensity—they're saddled with constantly delivering theses on the quest for victory—yet neither one embarrasses himself.
But something's gone horribly wrong on the track, and not just the expected fiery spinouts. The plot lacks the grease-stained poetry of better gearhead clashes (such as the extraordinary 2010 documentary Senna); cynically, Rush seems to be courting a video-game crowd impatient for another CGI-heavy Fast & Furious. Howard's hottest point of contact comes at a press conference, where the physically mangled Lauda spits invective at a journalist asking about the state of his marriage. A more daring filmmaker would have probed Lauda's sacrifice in a quieter follow-up scene. Instead, the movie leans on symbolic imagery that's alternately tired and ridiculous: Hunt's impatiently flicked cigarette lighter (yes, he's a candle waiting to be lit) or a black-widow spider crawling up the stands of one particularly dangerous course. These are classic frenemies; their tale deserves more gas in the tank.
Follow Joshua Rothkopf on Twitter: @joshrothkopf
Release details
Rated:
R
Release date:
Friday September 27 2013
Duration:
123 mins
Cast and crew
Director:
Ron Howard
Screenwriter:
Peter Morgan
Cast:
Chris Hemsworth
Natalie Dormer
Olivia Wilde
Daniel Brühl

Rating Breakdown
5 star:

3

4 star:

0

3 star:

0

2 star:

0

1 star:

0
So what if it is a trifle predictable? The truth is that it is Ron Howard at his solid, blue-collared best. Far more lively than his usual take on a real-life drama (check out 'A Beautiful Mind' for that), driven by an excellent and endlessly quotable yet punchy narrative (by Peter Morgan), excellently staged yet never overblown racing action and wonderful performances...this was a very intelligent form of entertainment that is very much lacking in most modern blockbusters (please Joshua, as much as I love your writing, do not compare it with Fast and The Furious)...my only complaint would be that it flies so fast and ends so quickly that I want more and more...
I honestly can't agree with what you've said, i think you've looked at this film far too critically and if you compare it to other cgi action films (that i agree have been overdone) you must not be really taking in the story and suggesting that the symbolism in the film is boring is just being pessimistic.
This is the best movie of 2013 so far and I doubt an upcoming movie will take this spot (maybe Gravity). The balance is poetic in every form: the balance between the two protagonists, but even more so the balance in sequences of the two. You never get bored watching and just when you're about to get bored, it switches brilliantly. The story is, for me, one of the strongest points and one of the best sports film stories ever. But that's just the plot and the balance and pacing; the achievement in cinematography is just stunning. Engines being fired, ultra zoomed cameras attached to the car's gear where you see every little thing moving, rain falling in slow-motion... everything is so, so beautiful. But that's just graphically: the sound is so deep, so real, it reels you in and echoes afterwards. In combination with the music, just brilliant. But that's just the cinematography: the actors deliver an astonishing performance; you hate them both, but you wish them both the best, they should both win. Hemsworth is truly arrogant and believable, Brühl is truly driven and professional. The chemistry, although I hate that word, is just spot on. I disagree on literally every level of your review, but luckily it's a free world, so that's okay.