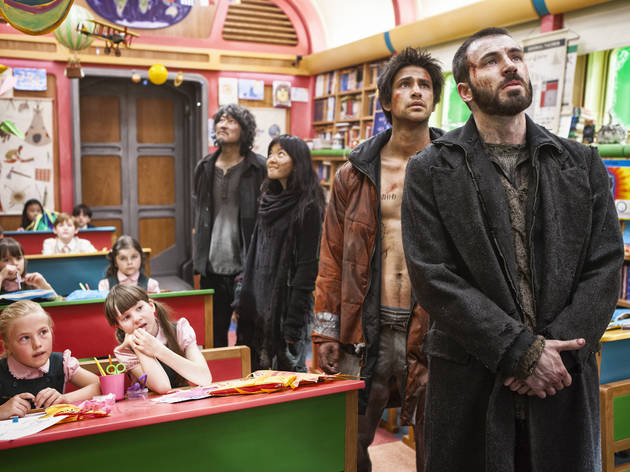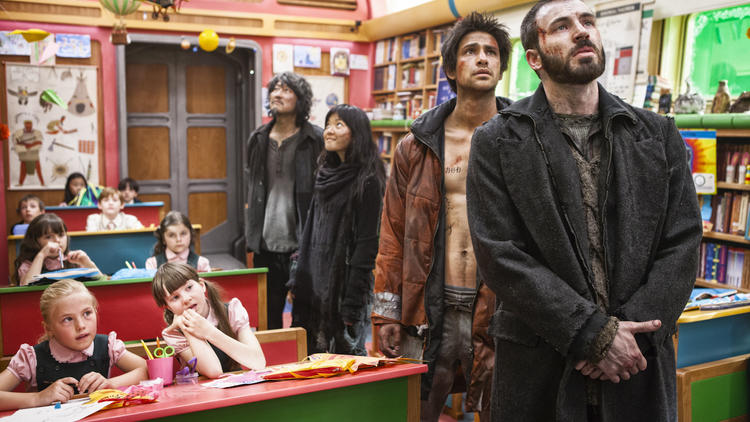 Sprung from a 1982 French graphic novel and bearing its era's trickle-down tensions, Snowpiercer is a headlong rush into conceptual lunacy—but you'll love it anyway. Silly doesn't even begin to describe a perpetually cruising luxury rail, teetering around high-altitude curves and pounding through the ice of a dead world. Hollywood rarely goes quite this nuts, and the foreign-made production, helmed by South Korea's Bong Joon-ho (The Host), gets at a kind of daring, giddy excitement that plays like something our movies have lost.
In a prologue, we see jets taking to blue skies, deploying a miracle spray that's supposed to cure global warming. But this being darkly comic sci-fi (Snowpiercer is the best fix of it in years), it only brings on an instant planet-killing freeze. Cut to nearly two decades later, and human nature is still up to its old games, only now we all live sealed off from endless winter on a speeding train, where smudgy unfortunates like Curtis (Captain America's Chris Evans) occupy the rear and plan revolt. Other passengers have it better up front, it's rumored. Worst of all, smug middle management has survived like the cockroach, in the form of toothy Mason (Tilda Swinton, a burbling, Thatcheresque delight), reminding everyone of their proper place.
Working in English for the first time with no noticeable lapse of his perverse sense of humor, Bong grabs on to the grungy conventions of postapocalyptic adventure with relish. He serves up claustrophobic action scenes (one largely shot in the dark) and ominous, messianic overtones as the band of rebels makes its way forward. But his real genius here is for establishing a sickening future psychology where every new compartment contains a haves-and-have-nots surprise: a fully equipped sushi bar, a brightly colored schoolroom filled with happy kids, a bumping dance club. The film has the same symmetry of The Grand Budapest Hotel and a whiff of its doomed nostalgia, too. Try it.
Follow Joshua Rothkopf on Twitter: @joshrothkopf
Release details
Rated:
R
Release date:
Friday June 27 2014
Duration:
126 mins
Cast and crew
Director:
Bong Joon-Ho
Screenwriter:
Bong Joon-Ho, Kelly Masterson
Cast:
Tilda Swinton
Jamie Bell
Chris Evans
John Hurt
Song Kang-Ho

Rating Breakdown
5 star:

0

4 star:

0

3 star:

0

2 star:

2

1 star:

0
This film is the biggest disappointment of the year. I'm still picking my jaw up off the floor on seeing the five stars next to this review. Fans of Joon-ho Bong will leave the theatre asking, "What happened to him?" Snowpiercer tries to capture the crazy, sly spirit of his earlier film, The Host, but fails completely. Part of the difficulty seems to be that all of the western actors, from the A-Listers like Tilda Swinton and Ed Harris, right on down the line, all act with a campy sort of attitude that seems to say, "look at me, I'm not a real person, I'm a cartoon in a graphic novel!" The only human, grounded performances in the film are by the two Korean actors, Kang-ho Song and Ah-sung Ko. Both of these actors were in the earlier The Host and bring the same sense of character commitment to Snowpiercer. However, where The Host was clever, sneaky and infinitely amusing in its subversive attacks on the status quo of both South Korean and U.S. social institutions and interactions, Snowpiercer beats you to death with the blunt instrument of dull, didactic wordiness and presses you into your seat with preachy, simplistic politics. I traveled 120 miles to see this film, and the theatre, an uncomfortable, dreary little space (the only place in the whole state of Michigan to screen the film, at least that I could find) was packed with excited fans who left two hours later, like me, muttering sadly and shaking their heads.
This appalling piece of nouveau film making , raved about by the critirati, is truly one of the most excruciating films of recent times. Were we maybe seeing an entirely different film? Inexplicable. George A is both on the money and In fact quite generous. Turkey of the year.