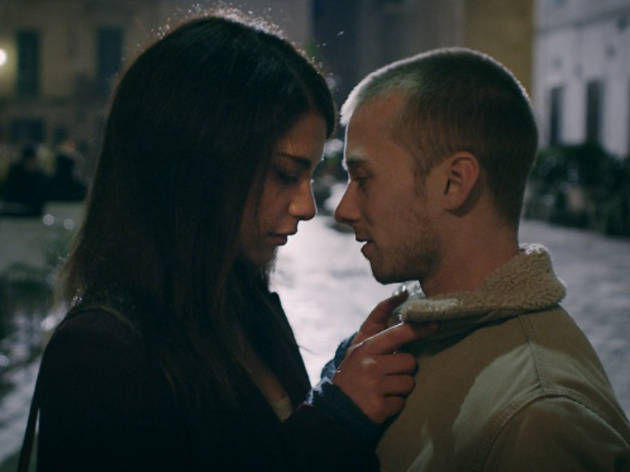 A mutant hybrid between Before Sunrise and An American Werewolf in London, Justin Benson and Aaron Moorhead's Spring is a clever and severely romantic creature feature that, not unlike its dim-witted bro hero, is in desperate need of a woman's touch. Recently orphaned and in some trouble with a local thug, Evan (Lou Taylor Pucci) is a dazed twentysomething sous chef who's desperate to leave town. Flying by the seat of his pants and looking for reinvention wherever he might find it, Evan makes his way to the coastal Italian region of Apulia along the cliffs of the Adriatic Sea.
It's there that this typical male comes face to face with a typical male fantasy: Her name is Louise (Nadia Hilker), and she's sitting in the local square in a hot red dress like she's been waiting for Evan to arrive. Louise is at once both suspiciously forward and frustratingly elusive, but the sparks are undeniable. You know where this story goes from there: Just when it seems like Evan has Louise figured out, she transforms into a gaunt lupine beast and eats a chauvinistic tourist's penis against the light of a full moon.
Spring isn't coy about the fact that Louise is harboring a dark secret, and the film's appeal is rooted in its refreshing eagerness to focus on aspects that most monster movies would think too human. This isn't a film about the next person Louise is going to kill so much as it's one about the next person she's going to be. The fact that Benson and Moorhead fumble her overcomplicated mythology doesn't stop them from turning her into the perfect vehicle for their throwback effects wizardry, Louise's monstrous forms continuing to surprise long after the plot itself has revealed all of her secrets.
Unfortunately, the film does a much better job of capturing John Landis than it does Richard Linklater. Spring makes the fatal mistake of regarding its female lead as a catalyst for its male hero and not the other way around. Hilker acts Pucci off the screen, largely because she leans in to the fluidity of her character while he seems determined to make Evan the most boorish embodiment of American unexceptionalism. As a result, Spring feels like a male fantasy even when it trips over itself to acknowledge Louise's power. Still, in a film that's ultimately about the things we give up to be with each other, it's appropriate that Spring is such an enjoyably compromised experience—the story blooms no matter how unlikely it seems that Louise would ever make any sacrifices for Evan, let alone take pains not to eat him.
Follow David Ehrlich on Twitter: @davidehrlich
Release details
Rated:
N/R
Release date:
Friday March 20 2015
Duration:
109 mins
Cast and crew
Director:
Justin Benson, Aaron Moorhead
Screenwriter:
Justin Benson
Cast:
Lou Taylor Pucci
Nadia Hilker
Shane Brady