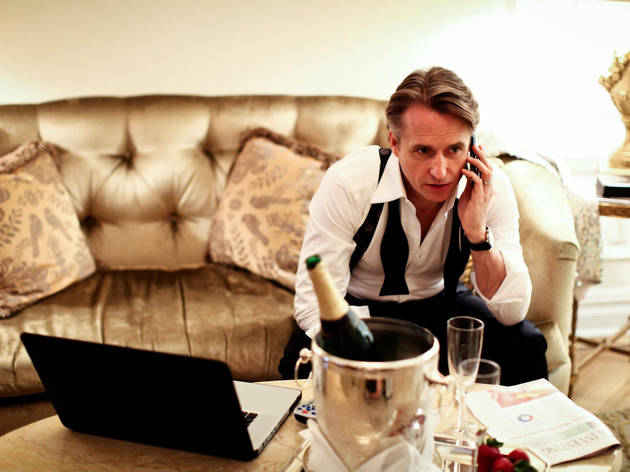 A morality play set in the high-stakes world of international finance, Simon Yin's torn-from-yesterday's-headlines drama follows hotshot New York hedge funder Connor Lee (Derek Ting) as he joins a Hong Kong outfit dead set on taking over a top family-run corporation. Lensed with a tiresome gloss meant to mimic the seduction of the Asian metropolitan high life and filled with clumsily didactic talking points and inadequate performances, Supercapitalist chugs along as we wait for our hero's inevitable change of conscience. But mostly, this DOA movie is an excuse to hammer home that there's more to life than making a shit-ton of money. Take that, Wall Street!
Follow Andrew Schenker on Twitter: @aschenker
Release details
| | |
| --- | --- |
| Release date: | Friday August 10 2012 |
| Duration: | 101 mins |
Rating Breakdown
5 star:

1

4 star:

0

3 star:

1

2 star:

0

1 star:

1
I agree with Jayson Chan: 'simply not a five star film'. I also very much disagree with Jayson Chan: 'but not a 1 star film'. That's precisely what it is.
When I first saw this movie I thought it could have used more solid acting by the supporting cast and a smoother storyline. My favorite was Linus roache and the two older Chinese guys who I've seen in alot of hong kong movies. The worst character was the little boy, which I wonder why most of his lines were "really"? Almost as much as "bro" Like really! Being derek ting's first movie, he did a pretty decent job. And then when I read the Forbes article that the budget was 600k , or like 10% of Margin Calls's budget, the question is if it's as good as Margin Call, I think for the money spent it held up on its own despite it's obvious shortcomings. And this is from the "Asian perspective". The commenter actually does live in hong kong... So simply not a five star film but not a 1 star film. When actual film critics from Asia review this film, they'll see how the story actually reflects the family feud atmosphere family owned publicly traded companies...(ie: google "sun hung Kai " brothers scandal) and maybe american critics will add more stars to this (but definitely not four more)... A movie worth watching....