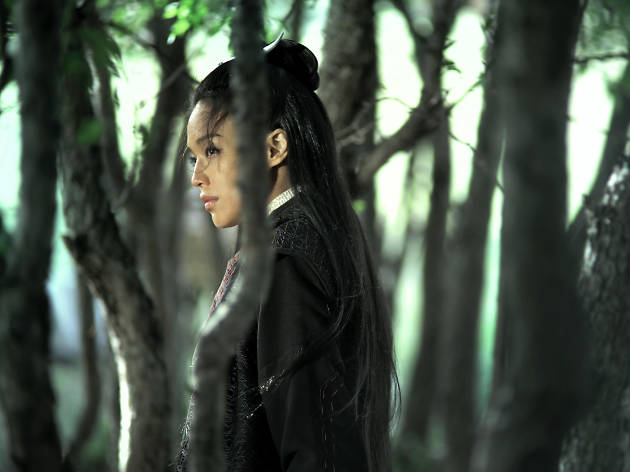 Hou Hsiao-hsien's latest sees the veteran Taiwanese filmmaker, known for his quiet realist dramas, tackling the wuxia martial-arts genre with a story set in 9th-century China. But Hou bends the form to his own style rather than the other way around: The Assassin offers little to compare it to the likes of Crouching Tiger, Hidden Dragon. Its few action scenes are spare, unusual and precise, sometimes shot at a distance, sometimes up close, always surprising, and never showing even a glimpse of blood.
Composed of long, carefully choreographed and exquisitely framed takes, there's an air of mystery here from beginning to end—and not without ample head-scratching moments as Hou allows his story to unfold gently and unobtrusively. The film begins with a black-and-white prologue before breaking into stately dark color. We meet the film's title character (Hou regular Shu), a woman kidnapped and taken to the countryside as a child and trained by a nun as a killer of corrupt officials. Now, after fluffing a mission when compassion got the better of her, she must travel back to the land where she was born and kill a powerful man, Lord Tian Ji'an (Chang), whom she was once supposed to marry.
If The Assassin is sometimes agonizingly slow, it's also agonizingly well-crafted—an agony that regularly tips into ecstasy as Hou allows us to be lost in the period, people and places. Atmosphere sticks in the mind more like painting than plot, and the film moves at a languid, careful pace, allowing us to get lost in the staggering detail of the film's costumes, design, cinematography and direction. Moments that stick in the mind: a conversation shot from behind a billowing net curtain, a landscape lost in the mist, and a character self-combusting into a magical fog. The Assassin is a beautiful, beguiling world, easy to get lost in.
Release details
| | |
| --- | --- |
| Rated: | N/R |
| Release date: | Friday October 16 2015 |
| Duration: | 107 mins |
Cast and crew
Director:
Hou Hsiao-Hsien
Screenwriter:
T'ien-wen Chu
Cast:
Qi Shu
Chen Chang
Satoshi Tsumabuki