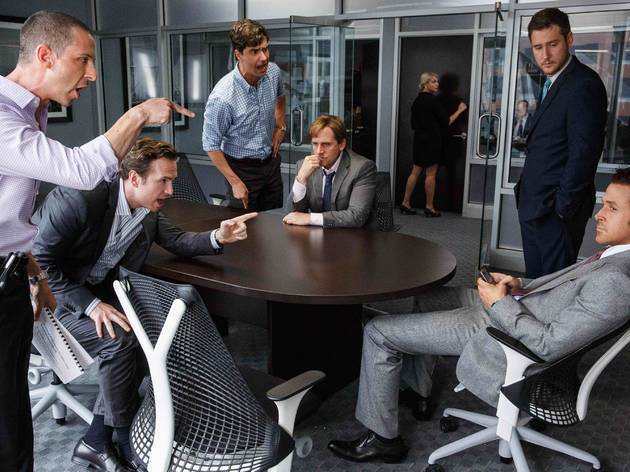 Time Out says
A handful of business jerks predict the end of the financial world in a comedy of apocalyptic proportions.
They're not exactly the Fellowship of the Ring: One guy, the real-life Dr. Michael Burry (Christian Bale, embracing a near-Aspergian intensity) blares heavy metal out of his office and analyzes the paperwork of thousands of failing home loans. Another one, our narrator, Jared Vennett (Ryan Gosling, on fire), yells his colleagues out of the executive washroom to unleash torrents of cell-phone assholery. A third, the investment consultant Mark Baum (Steve Carell), steals cabs from more patient New Yorkers, hustling his way to high-pressure meetings where he'll whine out his fury.
And yet, in the subversive, riotous The Big Short, these are our heroes (of a sort)—the few, the brave, the vicious, who somehow predicted the 2008 housing collapse years in advance. They're an extremely unpleasant bunch to build a movie around. Even worse, as chronicled in Michael Lewis's deft 2010 best-seller (on which the script is based), they all made a killing while billions in pensions and savings went up in smoke. Still, it's impossible not to be swept up in their Cassandra-in-the-wilderness craziness because we know they're right. Almost halfheartedly, The Big Short reminds us—via a bearded Brad Pitt as an eco-conscious trader—that millions of lives will be ruined. Mostly, though, the movie's a sick thrill, a toast to the douche bags.
Director Adam McKay has, up to now, made things like Step Brothersand Anchorman: The Legend of Ron Burgundy. Now isn't the time to demean those films—they're exquisite tantrums of unchecked aggression and, in a way, a perfect résumé for The Big Short. McKay, more than any director who's taken on this subject to date, sees the banking crisis as a shriek of ego, which it was. He brings on the smirking agents who sold multiple homes to strippers. Then he brings on the strippers and the crocodile that now lives in the abandoned swimming pool. McKay's zaniness has a precedent: Like Stanley Kubrick's Dr. Strangelove, The Big Short is a gleeful tumble toward the apocalypse, except in this case, it actually happened.
Some of the ideas here are fuzzy—how could they not be?—and certain attempts to explain the housing bubble, via cheeky cameos by Selena Gomez and Anthony Bourdain (among others), lack the nerve of the sinewy main event. But when a Hollywood comedy turns the crime of the century into a lark, you know a huge gamble has been chanced and won.
Follow Joshua Rothkopf on Twitter: @joshrothkopf
Details
Release details
Rated:
R
Release date:
Friday December 11 2015
Duration:
130 mins
Cast and crew
Director:
Adam McKay
Screenwriter:
Adam McKay, Charles Randolph
Cast:
Brad Pitt
Finn Wittrock
Christian Bale
Steve Carell
Ryan Gosling
Marisa Tomei
John Magaro