The Black Panthers: Vanguard of the Revolution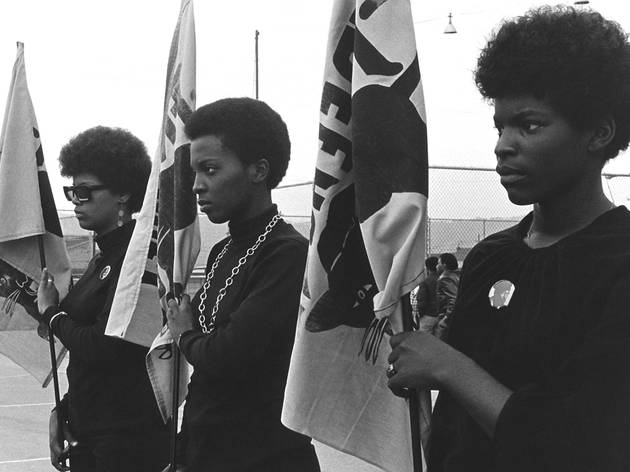 A loud-and-proud history of resistance.
"We had swag," Black Panther Party member Ericka Huggins says with a small smile in this vital, well-organized documentary. Loaded with the militant images that grabbed worldwide media attention in the late '60s, director Stanley Nelson's The Black Panthers: Vanguard of the Revolution strikes an intelligent balance between funk-scored pride and a more universal story of activism threatened by in-fighting and accidental celebrity.
The gains of the Oakland-founded group are undeniable, presented with timely attention to the movement's stance against the police. Subverting the Second Amendment to take on a larger injustice, Panthers toured the streets toting open-carry weapons (as was their legal right), becoming walking symbols of vigilance at arrest sites. As their leaders, Huey Newton and Bobby Seale, were jailed on trumped-up charges, the party survived and even thrived, accommodating a sizable number of female members, adding equal gender rights to the party platform and organizing free-breakfast programs for inner-city kids. International delegations toured Scandinavia and laid down roots in Algeria. A circular spread the word.
Nelson's impassioned history stumbles slightly by overly demonizing J. Edgar Hoover's
FBI-led COINTELPRO program via some villain-voiced narration—the facts are sufficiently damning. But there's absorbing discipline in the doc's reconstruction of the 1969 murder of Fred Hampton—nothing short of a political assassination carried out by cops in a predawn Chicago raid.
Follow Joshua Rothkopf on Twitter: @joshrothkopf
Release details
| | |
| --- | --- |
| Rated: | N/R |
| Release date: | Wednesday September 2 2015 |
| Duration: | 113 mins |