The Bling Ring: movie review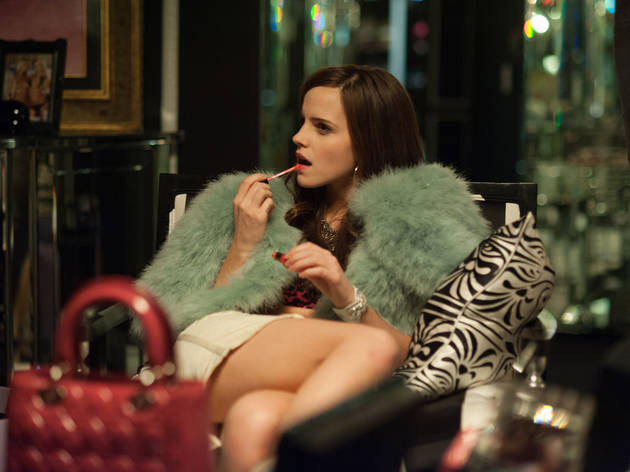 Time Out says
The first thing you notice: These are some really bad burglars. Vaulting over a gated fence in security-cam footage, they're less stealthy than awkward: a lame assembly of bumblers that even a sleepy dog would notice. They slam into doors with profane grunts. Maybe keep it down a little? Amazingly, the house is breached and they do their business and leave, loaded with bags and—is that an oil painting? An electric guitar explodes on the soundtrack like a gotcha (Sleigh Bells' "Crown on the Ground") and we're off to the after-party.
The Bling Ring, Sofia Coppola's deceptively shallow but ultimately fascinating latest, is animated by that spirit of we-don't-give-a-fuck playfulness. It doesn't quite take the side of the real-life teen thieves who raided the Hollywood homes of Paris Hilton, Megan Fox and more (a crime spree chronicled in Nancy Jo Sales's 2010 Vanity Fair feature "The Suspects Wore Louboutins," on which Coppola's screenplay is based). But it doesn't depict them as monsters, either—or anything worse than the nincompoops that bored upper-middle-class kids can often be—and that's provocative. After years of garnering sympathy for the born-rich in movies like Marie Antoinette and Somewhere (and opening herself up to criticism), Coppola goes deeper into lifestyle envy than ever before, a maturation hidden by tons of onscreen bad behavior.
The scam went like this: Marc (Israel Broussard), a closeted loner new to remedial Indian Hills High School in Calabasas, California, would locate celebrity addresses on Google Earth to please Rebecca (Katie Chang), his fashion-obsessed friend and exploiter. Too thrilled by the ease of their initial exploits (and thickening wads of spending cash), they bragged about it on Facebook, growing the group to include wanna-be models like Nicki (Emma Watson) and Sam (Taissa Farmiga).
You wait for the shoe to drop—or maybe it's just us viewers of a certain age who wait for it—yet The Bling Ring slides into a subversive stretch of free fall where the consequences seem especially distant. Coppola sacrifices central performances to get there (no one actor stands out); still, this could be her purest piece of direction yet, the characters' sense of entitlement blooming with every exchange. Are the blingers really going to boost that $100K Porsche? "I got them on the way out," Rebecca blithely says of the keys, as if she owned the place. Vroom.
There's morality here for those who want it: This Is 40's Leslie Mann is extra squeaky as an unaware New Age mom (the other parents are no better); we also learn that Ms. Hilton kept her key under the mat. Just desserts? What lingers in our memory has more to do with an atmosphere of stolen luxury (beautifully rendered by Harris Savides, shooting his final film), crickets and helicopters swirling the night air. These young criminals just coveted what they saw on TMZ. And no one told them their dream was fake—maybe because it's not anymore.
Follow Joshua Rothkopf on Twitter: @joshrothkopf
Details
Release details
Rated:
R
Duration:
90 mins
Cast and crew
Director:
Sofia Coppola
Screenwriter:
Sofia Coppola
Cast:
Leslie Mann
Emma Watson
Taissa Farmiga

Users say