The Crash Reel: movie review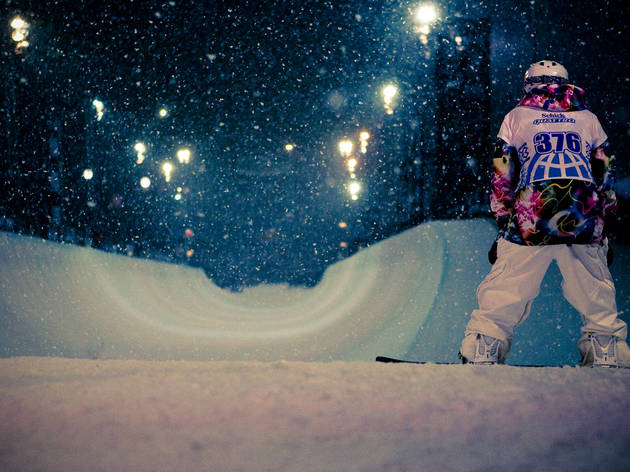 Compiled from untold hours of found footage, Lucy Walker's documentary traces professional snowboarder Kevin Pearce's recovery from the traumatic brain injury that nearly ended both his career and his life. The director has assembled Pearce's history—turning pro at 13 despite being overshadowed by an older brother with similar aspirations; his rivalry with and triumph over champion Shaun White—into a smooth and continuous flow.
Too smooth, in fact. With its high-energy music and graffiti-style graphics, The Crash Reel plays like the slick promos NBC uses to repackage every Olympian's story into a pat narrative. Although there are references to, say, how Pearce's injury has changed his personality for the worse, there's nothing to blemish the upward curve of his recovery, even with his desire to resume snowboarding prompting stern warnings from doctors and tears from his family. Walker, a two-time Oscar nominee (and possible three-time, now that this film has made the Academy's shortlist), tweaks emotions successfully enough, but she doesn't ask hard questions, or even interesting ones.
Follow Sam Adams on Twitter: @SamuelAAdams
Rating Breakdown
5 star:

1

4 star:

0

3 star:

0

2 star:

0

1 star:

0
The Crash Reel is the best and the most moving and accomplished documentary I've ever seen. I'm shocked by the TIme Out review Sam Adams and challenge the reviewer to watch the movie because it is not composed of found footage, it only starts out that way. The film quickly becomes astonishing fly-on-the-wall dramatic scenes that take us in a very unexpected direction. The review is a bit like saying Dog Day Afternoon is a boring heist movie! And it asks very hard questions and very interesting ones in the most emotional, cinematic, dramatic ways possible. Kevin's recovery is totally flipped on his head and his comeback is not only revealed to be delusional and suicidal but is transformed as it takes compelling directions as Kevin's brother with Down's Syndrome and father the glass-blower take us into transcendent directions. As Sarah Burke dies and athletes reflect on their crashes the questions are brutal and inescapable. This is not a badly-made advocacy doco, it's the opposite of that, and I give it five stars and notice that it is 100% positive on rottentomatoes.com so suggest your reviewer please watch the movie not the trailer. That is what we expect of Time Out. Thank you.